Getting new attendees to hear about your events can be hard. That is why it can be so valuable to foster repeat attendees to grow your events. 
In this part our Event Marketing 101 series, we'll be covering how to get repeat attendees to your event.
The people who are likely to enjoy your new events the most are the ones who already attended previous events. But how do you encourage them to come back?
Join our newsletter to get our insights before anyone else.
Deliver a Great Experience
One of the most important things that you need to do when trying to get repeat attendees is give them an amazing experience.
Keep your event focused on a shared interests of the attendees. Events are inherently social and by bringing together people with shared interests, you are creating a valuable experience.
Create opportunities at your event– whether it is a small concert, yoga class, or networking group– for different kinds of people. Some people are very social and want opportunities to talk with others. Some people want to sit back and enjoy a speaker, a musician, or teacher.
Pay close attention during an event at who seems most engaged. Do you notice people seem left out? Try to create ways to make everyone feel included and keep people from feeling bored.
If you want to get repeat attendees, you should make sure that your events are as consistent as possible.
In one way, this means literally hosting events on a consistent basis like monthly or weekly around the same time.
Having an event on the First Friday, Third Thursday, Second Saturday, etc can be a fun way to keep a memorable schedule.
Weekly events can be tough to keep up with, but creating a weekly event can become part of people's routines.
I have a weekly meditation group I attend every Tuesday night, a networking meeting every Wednesday morning, and a dance group every Friday evening. These events live on my calendar and the weeks I don't attend are an exception.
This also gives you an opportunity to provide some incentive to show up for the first time. If you know your goal is to get repeat attendees to your event, breaking even on the first event is worth it. Offer a free drink, free ticket, or some other offer to get them to "try it out" for the first time.
Once you get them there, provide a great experience and they're likely to come back and be willing to pay for your event (or drinks, food, etc). 
Remember when I said to pay attention to who is enjoying the event?
If you make a point to talk to attendees of your event, use that opportunity to listen.
Many people would love to tell you what they loved and didn't love about an event they attend. Take an individual suggestion with a grain of salt, but if you hear the same suggestion over and over… it's probably a good suggestion to consider.
If someone is coming back every time, you should be able to quickly figure out what they love about the event and provide it for them again and again.
If someone has attended a few times, ask them questions like:
What did they like about the last few events?
What do they wish you would change?
What are the three best things they've experienced so far?
What would get them to invite friends?
Create a Sense of Community
There is a lot of buzz around the word community these days. In another wave of interest, the topic has been popularized around marketing online this year.
Events are in a prime position to create a sense of community among attendees. Communities come together over a shared interest.
Find ways to get attendees interacting with each other. Even if it isn't a networking event, these network effects can create a built-in reason to come back to the next event.
It might seem obvious that to get repeat attendees to your event, you have to ask them to come back, but this is a step that many organizers miss.
You think that just because you host another event, the people who liked the first one will come back.
While attendees are still at your event, you can tell them about future events. Say something like "if you liked this event, please come back next month and bring a friend" or something similar.
You can also keep in touch to announce new events by collecting email addresses or cell phone numbers and then sending email updates about your events.
A follower on social media is unlikely to see a post about your event unless you tag them directly… even then they could miss it. Make sure you have multiple ways to get ahold of them and then use those multiple channels to remind them.
You could even get creative and find ways to incentive (or just ask) attendees to share the event with friends and family. After all, the event will be more fun for them too if more people come.
Example of Inviting Attendees Back Publicly
An example of how to get repeat attendees to your event is to make a post about it on social media and invite some attendees directly.
For Startup Grind Omaha, we host a Web3.0 Lunch Meetup every first Thursday. 
The group is small enough that I can add many of them on LinkedIn after they have attended at least one event.
When the next event is coming up, I make a post on LinkedIn and tag all the people who have been at previous events. (Which I can check with Event Vesta's free registration tool.)
This makes people feel included, reminds previous attendees that there is another event coming up, and boosts the posts reach in the algorithm on LinkedIn.
The same tactic can work on other social media channels like Instagram and Facebook.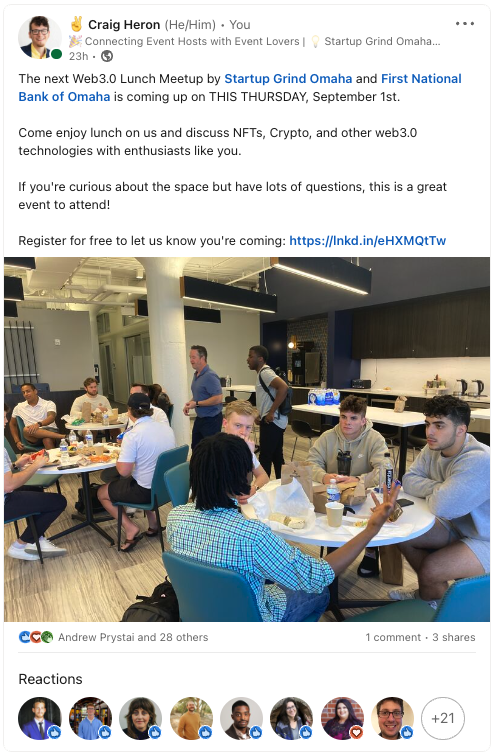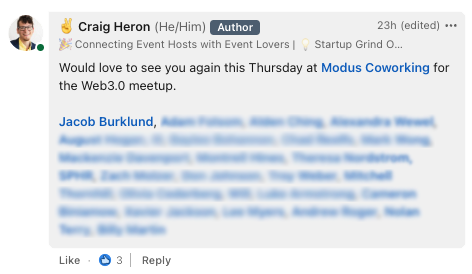 Build on Your Promotion Strategy
If you can get repeat attendees to your event, you can significantly improve the return on your event promotion strategies.
Check out some of our other posts in this Event Marketing 101 series to find out how to get attendees through the door at their first event.
Join our newsletter to get our insights before anyone else.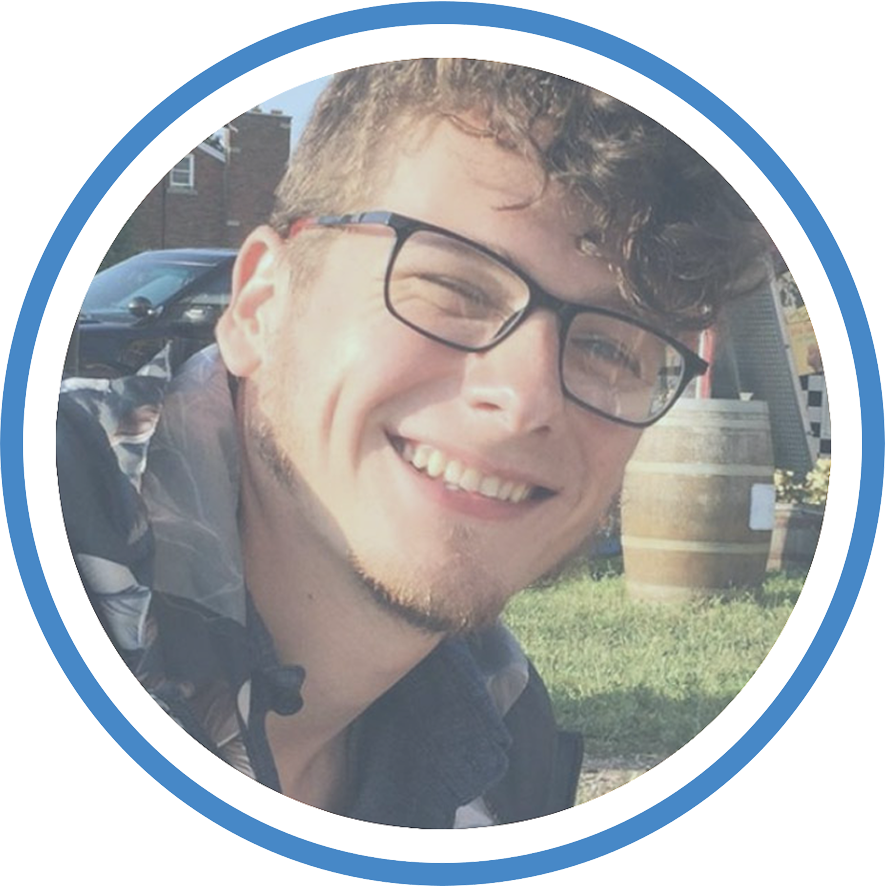 Craig is the Director of Marketing at Event Vesta. He is also Chapter Director the event organization Startup Grind Omaha that cultivates a startup community in Omaha, Nebraska.  Previously he was VP of Marketing at Beeso Studio, President of the Board of Directors at Winker Gallery of Fine Art, and spent nearly a decade in event technology in Austin, Texas and Pittsburgh, PA.