For many event organizers, Halloween themed events can be the biggest event out of the year.
In general, holiday themed events like Christmas/Holiday events perform well too, but for some reason people in cities across the United States LOVE to celebrate Halloween.
Most Common Day for Halloween Events
We took a look at 148 Halloween themed events from 2021 to see if most events were hosted on Halloween or if there was a day of the week that stood out.
Not only did the Halloween-weekend Saturday have the most events hosted, but the Saturday before also had almost events than the actual date of Halloween.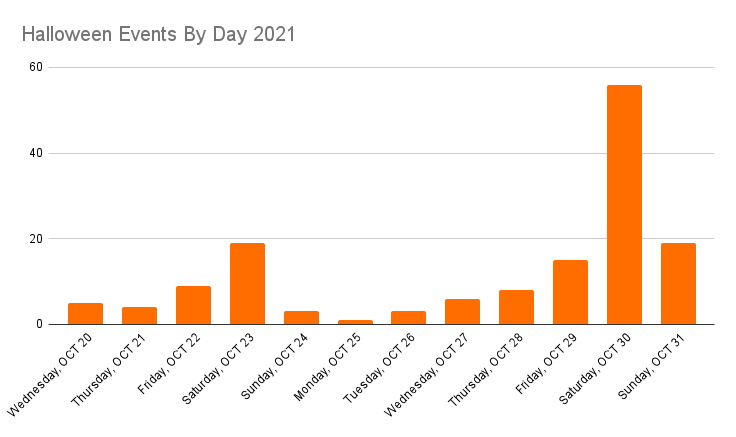 Days with Kid-friendly Halloween Events Hosted
Things look quite a bit different when we sort by kid-friendly events.
The actual day of Halloween, Sunday, October 31st takes over as the most popular day to host kid-friendly Halloween events.
As an interesting addition, all but one of the Sunday events were kid-friendly.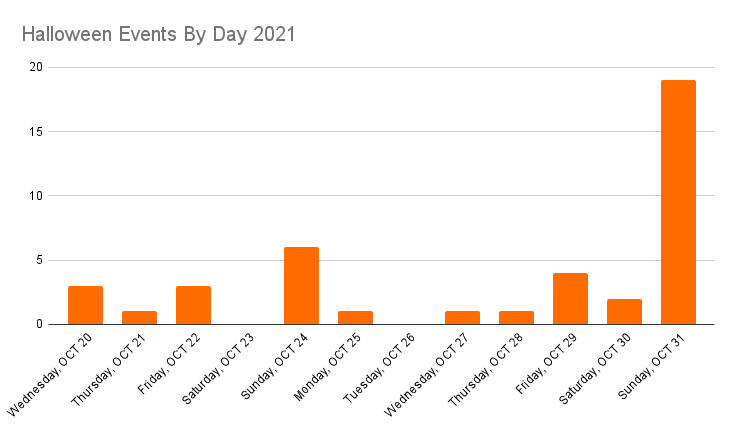 Also the Sunday prior to Halloween had a fair number events hosted in comparison.
The key takeaway here:
Saturday is the most popular day for adult-themed Halloween events.
Sunday is the most popular day for kid-friendly Halloween events.
Use our free Event Promotion Checklist to stay organized:
Median Ticket Price for Halloween Themed Events
Wondering how much to charge for a Halloween themed event?
Our data shows that the median ticket price for a Halloween themed event was $10.00 if free events are also included in the dataset. If only ticketed events are counted, then $11.25 was the median ticket price.
The highest ticket price we had in our data was $89 for a Halloween themed yoga retreat. 
Best Performing Day for Halloween Events
Many (but not all) of these events in this dataset were promoted through Vesta. We're able to track referrals and therefore we can get a sense not only how many events are hosted per day but how popular those events were.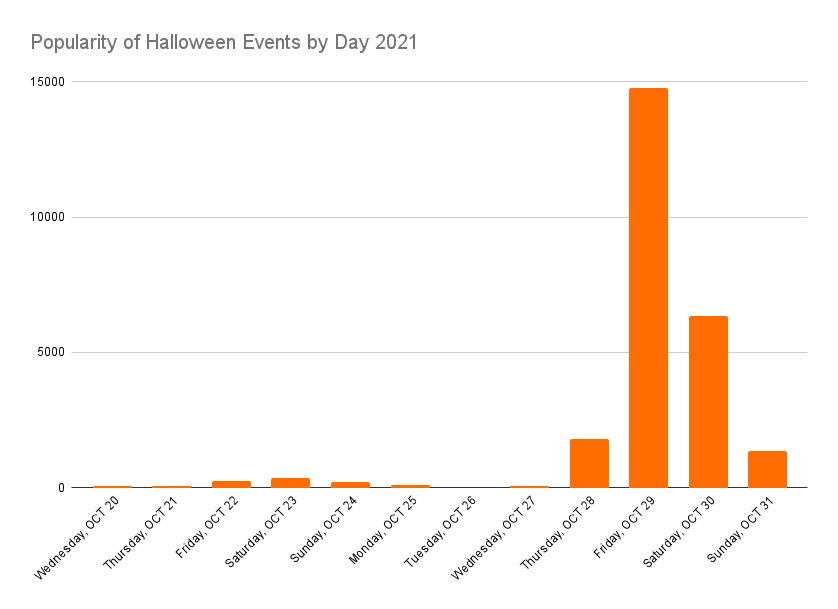 At least according to this data, the Friday events were somehow more popular than the Saturday events. Also, the weekend-of-Halloween events far out performed the prior weekend events.
The data gets skewed by a few very popular events though, and one of those events was listed as a Friday event in Dallas, Texas but was actually a full weekend event.
Hopefully some of this data is helpful in planning your Halloween themed events this year.
Join our newsletter to get our insights before anyone else.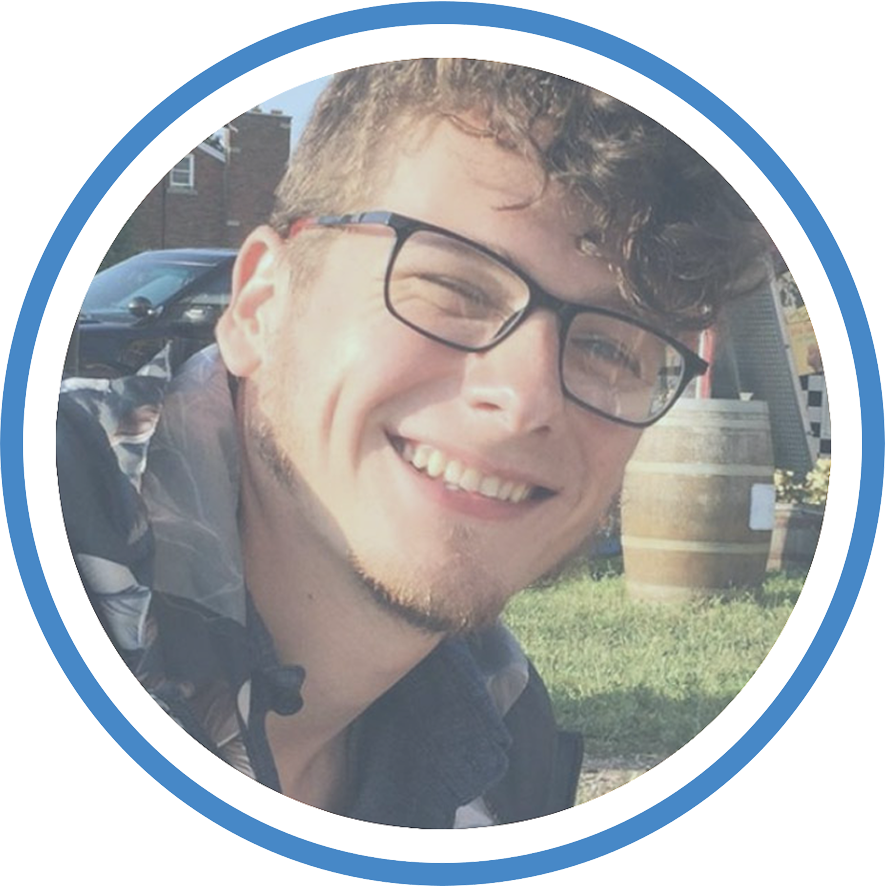 Craig is the Director of Marketing at Event Vesta. He is also Chapter Director the event organization Startup Grind Omaha that cultivates a startup community in Omaha, Nebraska.  Previously he was VP of Marketing at Beeso Studio, President of the Board of Directors at Winker Gallery of Fine Art, and spent nearly a decade in event technology in Austin, Texas and Pittsburgh, PA.