The expert event professionals agree, social media is one of the most important channels for promoting events. In this article, we'll share over 31 social media post examples to promote an event so that you can build a plan for yourself.
To make it easier, the first section of this article follows chronological order. You can simply take this list and turn it into a social media content calendar template for your events.
Whether you're just getting started out with events or you're a seasoned professional event organizer, this post will provide some fresh inspiration to up your events' social media game.
If you haven't already, make sure to check out the rest of our resources on over 118 event promotion ideas. This is just one part of the bigger series designed to help you maximize your event promotions.
Types of Social Media Posts To Promote An Event
So now you know how often you should post to social media about your event.
But what types of social media posts should you post to promote an event?
In this section we're going to take a deep dive with lots of examples of social media posts for promoting events.
Social media post examples for events
Announcement post with early-bird tickets
The ONLY post a lot of organizers will post is an announcement post. It's simple. Announce the event and share the basic details like name, location, short description, date, time, and price.
If this is all you post, we get it. You're busy.
If you can take just a few of these ideas and add them to your social media content calendar, you'll massively step up your marketing game for your events.
Announce the event lineup
If you have an event with multiple performers or presenters, make a big deal out of announcing the lineup.
In addition to posts that share the lineup, get people hyped up about the lineup coming out.
Here's an example social media post from Maha Festival previewing their upcoming lineup announcement posts.
Plus, they coupled it with a giveaway to build up even more interaction. We'll get to giveaways in a few minutes.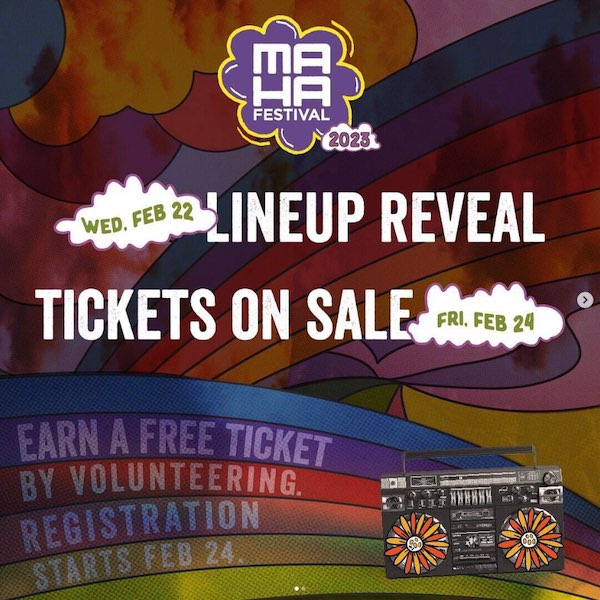 This post type isn't just for festivals either. Check out this example of an Instagram post announcement for a conference speaker lineup.
Share a calendar of events
If you don't have one event with a lineup, you can share a calendar of upcoming events.
Here's an example of Resound Presents in ATX sharing their upcoming events for a full month.
Notice that these posts get a decent amount of engagement. People start talking about which shows they want to go to and tag their friends. You could do these as separate posts, but combining them combines the engagement signals for the algorithm and more people will end up seeing the post.
Run a Giveaway
Giveaways are a classic way to create buzz around events. My first job was running giveaways and sweepstakes for a local radio station.
Here's a great example of a ticket giveaway post for Instagram for a relatively new music festival.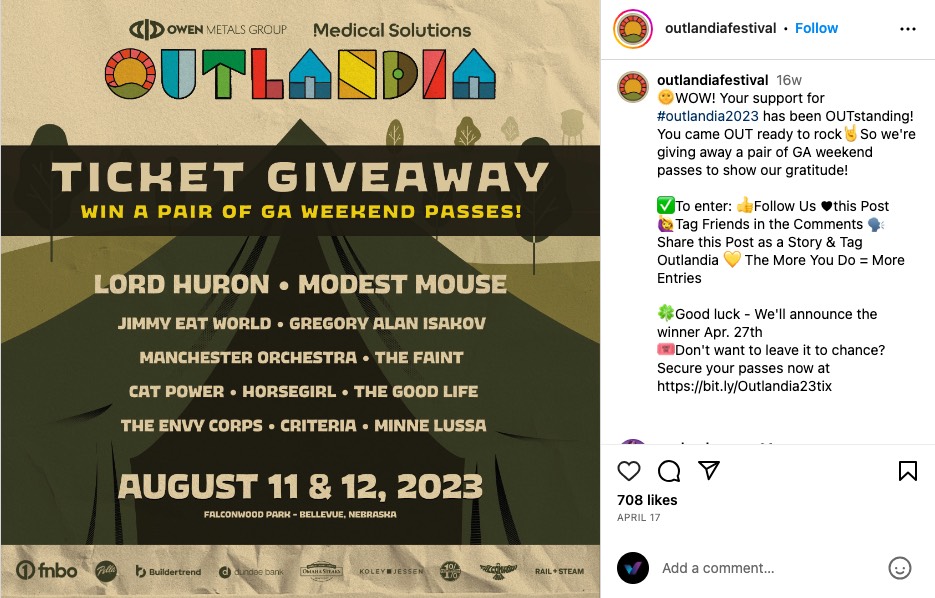 The rules around giveaways… and what you can get away with are always changing, so make sure to check with the social media platform's terms of service and your local laws.
Announce the winners of any giveaways
Don't just let the giveaway disappear into the abyss.
Again, at the radio station I worked at, announcing the winner(s) of a giveaway was just as big of a deal as the giveaway itself. We would always get pictures with them accepting the prize and even get them on air if we could.
Some people will share these posts or comment in excitement that someone they know won. At minimum it leaves no confusion that someone actually did win. It's also a great time to announce another giveaway and capitalize on that FOMO those seeing the post that didn't win are feeling.
Here's an example of what a ticket giveaway winner announcement post can look like.
Have fun with memes
Promoting your event doesn't have to be all serious.
Use memes and funny video trends to relate with your audience and prospective attendees.
This is a funny meme post example for an event by a festival promoter.
Post a hype video
Video stands out on social media.
If you have video from your previous years, use it!
Edit together a sizzle reel or hype video from your previous event footage to capture the feel and get people excited for the upcoming event.
It doesn't have to have huge production costs either. Check out this example of an event hype video that combines high-quality stock video with iPhone footage from a previous year's event.
Spotlight performers or speakers
Create spotlight posts about your performers or speakers.
This is a great opportunity to share a story about them. Get attendees even more excited to come see them at your event.
Here's a performer spotlight social media post example as an image with a description. A video interview (or both) would also be a great idea.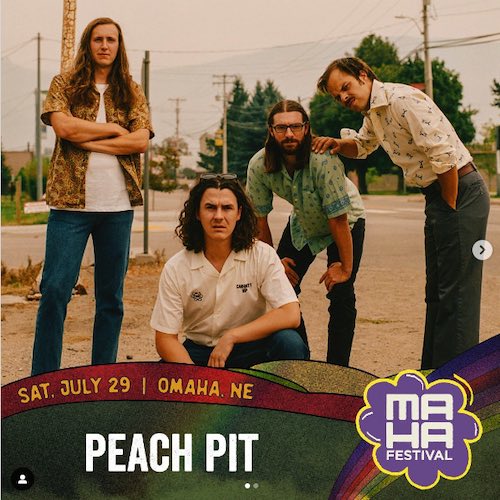 Highlight your team
Don't just highlight the presenters and speakers. Give your team a shoutout too.
They're likely to share it and their friends will see it as well.
In this example, The UC Theatre in Oakland highlights one of their collaborators and the post has great engagement.
Show off your sustainability
If your event has sustainability commitments, attendees care and want to hear about it.
Share about how your event is applying sustainability best practices.
Maha Festival has a zero waste mission. Here is an example of them sharing the amount of trash they diverted from a landfill at lest year's festival.
Explain the benefits
Leading with benefits instead of the features is a classic marketing truism.
A post about the benefits of your event is often left out because it seems obvious, but maybe it isn't.
This social media post example leans into the benefit of finding a job potentially at their event but also that you get to make valuable connections. That might attract new attendees that wouldn't have went because they're not actively looking for a new job.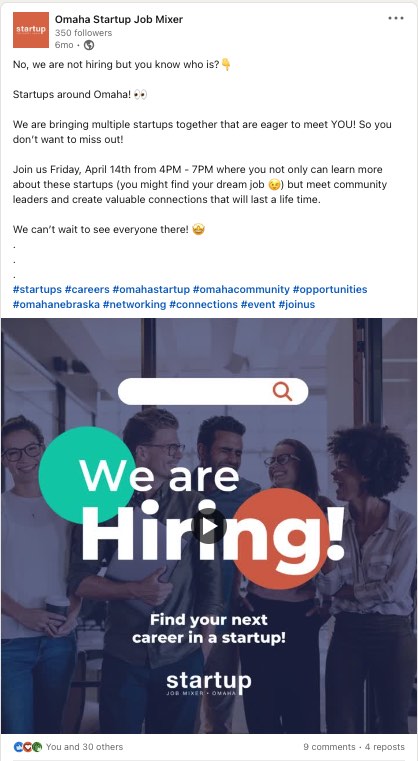 Call for volunteers
Most events rely on volunteers to work. In addition to shouting out volunteers and your team for all the hard work they do, why not publicly post a call for volunteers.
Your social media followers are probably the most likely people to make great volunteers because they already know about you.
Street teams are a common example of essential volunteers for concert promoters.
Volunteer street team Instagram post example.
Make it easy for partners and attendees to share their own posts
Creating frames, banners, and designs that others can share helps get your brand out beyond just your profiles.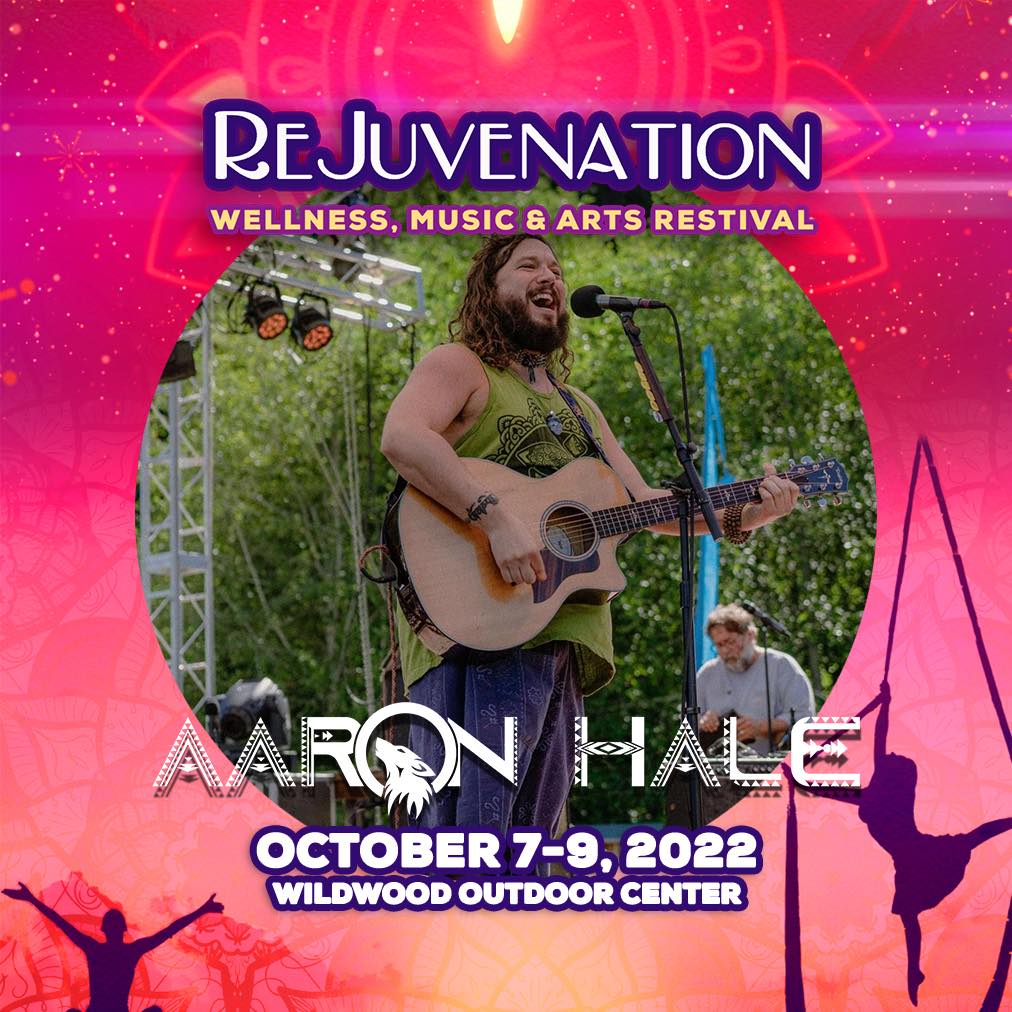 Create graphics that are easy for presenters, sponsors, partners, and even attendees to share. Then send the graphics to them and ask them if they will post about their involvement with the event.
Thank nearby businesses
Promote the local businesses around your event. Thank you post example to local businesses.
They will likely return the favor and it creates a good relationship as attendees of your event patronize their business.
Early-bird registration closing
You announced your early bird tickets, but the real purpose of early bird tickets is to give attendees a sense of urgency well before the event is about to happen.
This is a great opportunity to drive some purchases as you promote the upcoming price change.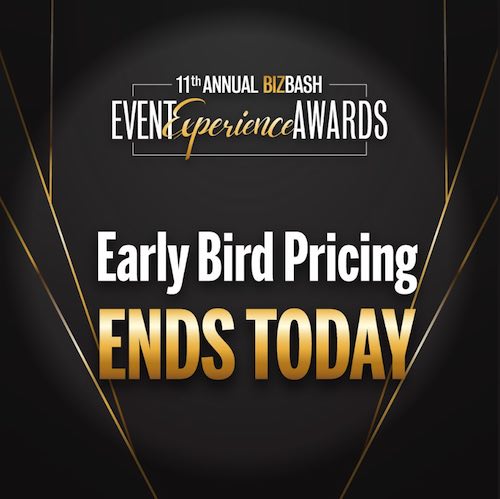 Tickets selling out
Another great way to drive purchases is sharing when tickets are close to selling out.
Low ticket alert post example.
Promote a flash sale
Maybe your tickets aren't selling out. Especially for a bigger venue, it can be hard to sell out and that might not even be the goal.
The alternative is to promote a flash sale like this one. It can be a great opportunity, just like Outlandia Music Festival does in their post, to promote VIP offerings that most attendees might not have known about.
Show off the venue
The space an event takes place in is almost as important as the performers. Behind the scenes at a venue post example.
One of the first things I hear at a lot of the events I host are comments about the space. The venue matters, so show it off a little.
Countdown posts
An advantage that events have in marketing is that they have inherent urgency built-in. A lot of businesses create promotions or promotional events to emulate this effect.
Leverage this built-in advantage with countdown posts. They can be even more powerful if you combine it with other posts like announcements or giveaways.
Templates for countdown posts on Canva.
Event sold out
Your event sold out. Great!
Let everyone know.
It feels good to know you got in for an event that sold out. AND if someone didn't get a ticket, they'll be more likely to buy early tickets next time you host an event.
A lot of organizers miss this chance, but the music industry and conferences are really good at using sold out announcements as social proof.
Here's a sold out example post.
Event survival guide
A fun type of social media post for your events is a survival guide.
I've seen some pretty fun ones that emulate a literal survival guide and can be quite funny.
But any kind of post that helps attendees know what to expect and helps them plan like this event prep guide example post can get some last-minute engagement.
It's also very practical as it can lead to a lot happier attendees when they come more prepared.
Show off your merch as a preview
If you're making cool merch for your event, show it off like this example of merch preview post from Lollapalooza.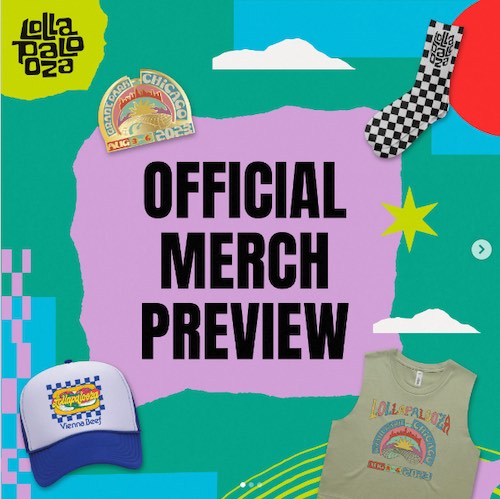 You might get quite a few chances to post about your merch too because you can use similar tactics to tickets. You can apply early bird discounts, post about quantities running low, and sold out announcements if you're selling merch ahead of time.
Maybe pre-orders sell out and the only way to get the few that are left is to go to the event.
Share a weather report for an outdoor event
If you have an outdoor event, people are going to be wanting to know about the weather.
Weather is also often a last-minute excuse not to go to an event. So pre-empt that excuse and share the weather forecast yourself.
If the weather isn't going to be great, share some tips about how to still have fun at the event despite the weather.
Example of weather report post from bonnaroo. In that example, they could have done a better job sharing some information about how that weather was going to effect attendees experience.
Post the schedule and keep it updated
For multi-day events, post a visual of the schedule. I know it's on your website, but attendees will often go to your social media profiles to find your schedule.
Real-time posts and stories
Once the event starts, having someone grabbing photos to post and prioritize stories on Instagram, TikTok, and Facebook.
Just a few weeks ago, I was at an Art Battle event in Omaha and shared some videos on my Instagram stories. Midway through the event, some friends of mine showed up and said they saw it on my Instagram stories and it looked cool.
Hopefully attendees will do this themselves, but why miss the opportunity. You could also encourage attendees to share stories of their favorite moments and tag your account. If they tag you in a story, you can share it in your stories.
Daily recaps for multi-day events
For multi-day events, share an end of day recap to get people excited for upcoming days.
Daily recap example from SXSW.
Conferences can really take advantage of this because so much happens each day. Attendees unwinding at the end of the day are likely to see these posts and interact with them.
Recap key takeaways from panels and speakers
Sort of like a daily recap, you can do individual takeaways.
Example of key takeaways post.
For conferences with panels and speakers might be easier to do this with.
However, event a music festival or community event could grab exciting moments from the day and share.
Thank you post
The event is over. You're probably exhausted, but don't stop yet.
The post-event thank you message is often one of the most engaged posts you can make.
My event series, Scale Omaha grew our social following almost entirely on these thank you posts.
People are still riding high from the event and don't want to let it go just yet. If you can get this post out no later than a day after the event, you can capture that energy.
It will transfer into good momentum for further posts about upcoming events.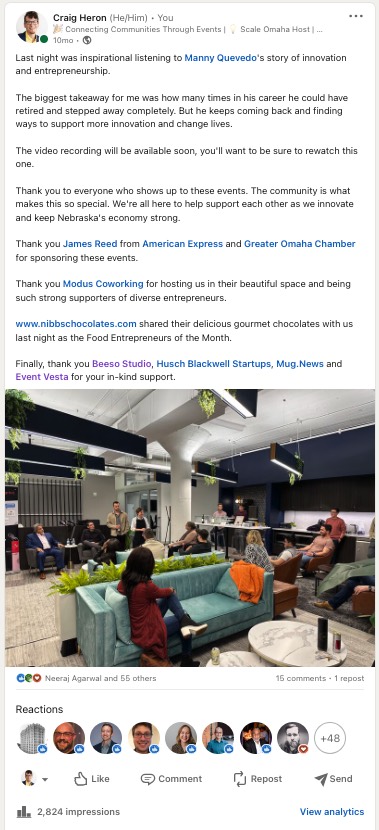 Post-event highlights
Once you've had some time to recover, share some highlights from the event.
These can show the people who did not attend what they missed out on and celebrate the event well after it is over.
Use polls for feedback
Getting feedback can help you create an even better event next time.
Often post-event feedback polls are done via email, but polls tend to perform well on the algorithm. It's an engaging post type, so why not use it.
Testimonials and interviews with attendees
A really fun way to keep the momentum going is sharing interviews and testimonials after the event.
You could share static testimonials like this post from a music festival, but taking it a step further you could do videos.
We have created videos for some events in our community which captures why people love the event and have a little fun along the way. These can go viral or at least have above average engagement.
For a bigger example, check out these attendee interview examples from bonnaroo.
Types of posts on TikTok and Instagram Reels for promoting an event
TikTok is a video-first social media platform even though you can now post photos as well. Here are a couple of types of posts for TIkTok and Instagram Reels to promote your events.
Share behind the scenes videos leading up to the event.
Share some of the process of getting ready for the event.
Pyro Music Festival in Ohio does a great job of being super transparent with their audience. In addition to a strong Facebook group for fans of the festival and a shared set of values, Pyro's founder Joe does a great job of building a sense of community with regular live streams showing behind the scenes of setting up the festival.
Pre-session video brief from speakers/performers.
If you're going to have a speaker at your event, see if you can get them to record a short 20-30 second video about the event.
It can be helpful to give them an idea of what to say and remind them that a selfie video is fine. This way it makes it REALLY easy for them and you get another interesting thing to share on social media.
(Don't forget to tag them or have them post it on their page and then share it to yours so you can reach their audience too.)
Do an Instagram live with a speaker/performer.
Take it a step further and do an Instagram live with your speakers or performers. It might be harder to get the buy-in needed for this, but it's a fantastic way to engage your audience and reach their audience (if they have one).
You can go live on Instagram and invite guests to the live stream. Here is a post on how to have guests on your Instagram Live.
Do a TikTok Duet with a performer.
Especially if you have a musician or artist at your event, doing a TikTok Duet is a great way to create some fun content to promote the event.You can post the first part of the Duet and then invite them to collaborate on it. Here is how.
Create a TikTok Duet that anyone can join.
Another fun way to engage with people before your event is to open up a TikTok Duet to anybody. Maybe pose a question that is relatable or ask people to share their favorite past events.
Geotag posts for the venue you are going to host at.
Another way to tap into the audience of your venue is to geotag your posts for the venue.
What to post on LinkedIn to promote an event
There are a few types of social media posts that perform particularly well on LinkedIn.
Create your event page on LinkedIn
Many people still don't know that you can create an event page on LinkedIn just like you can on Facebook. You can invite people to your event and it will show up in their connections notifications just like a connection request.
The invite feature allows you to filter by location and industry, which helps you invite the right people.
You can make up to 1,000 invites to a LinkedIn event per week. I've found that limit is generally close to 300 per day before it starts breaking.
Personal page vs company page
LinkedIn company pages used to severely underperform. This was partly because people tend to engage more with people on every social media platform, but also because LinkedIn seemed to be throttling reach for company pages.
In 2023, a post from a company page can perform just as well as a post from a personal page. But it takes awhile to get enough followers for it to make a big difference. So in the meantime, get you and your team posting about your event on your personal pages.
Short videos on LinkedIn
Short video is probably not the first thing you think of on LinkedIn, but for years video has performed well on LinkedIn.
You can repurpose the same or similar content from Reels to LinkedIn, although you might want to keep it at least a little bit more on the serious side.
Comedy can do well on LinkedIn too, like these videos from Chris Bogue. You just have to keep the audience in mind.
Polls on LinkedIn
The LinkedIn algorithm loves polls. The feed really rewards any type of engagement with your posts, and polls tend to easily get engagements.
For awhile the algorithm really pushed polls. Those days are over, but they're still a solid post type.
Conclusion and More Ways To Promote Your Events
Now that you're armed with lots of social media post examples to promote an event, make sure you're not forgetting your other promotion channels.
118 Event Promotion Ideas – Table of Contents
Getting Your Basics Right
Event Promotion Ideas and Strategies

Event Promotion Ideas for Social Media

Memes for Promoting Events
Creative Social Media Campaign Ideas for Events

Event Promotion Ideas for Your Website
Content Marketing Ideas for Events
Event Promotion Email Ideas

Affordable Print Event Promotion Ideas
Other Low-Cost Event Promotion Ideas

Effective Event Marketing with a Budget

Cool and Innovative New Event Promotion Ideas
Event Marketing Budget Template and Best Practices