There's no secret that a lot of people use Google to find events and things to do. That means if you getting your events to the top of Google Search can have a big impact.
In this post, we'll share some tips to give your events the best chance to show up at the top of Google Search results.
The section at the top of Google Search results that shows a list of events is called a "rich result" or sometimes called the Google Events Module.
What are rich results?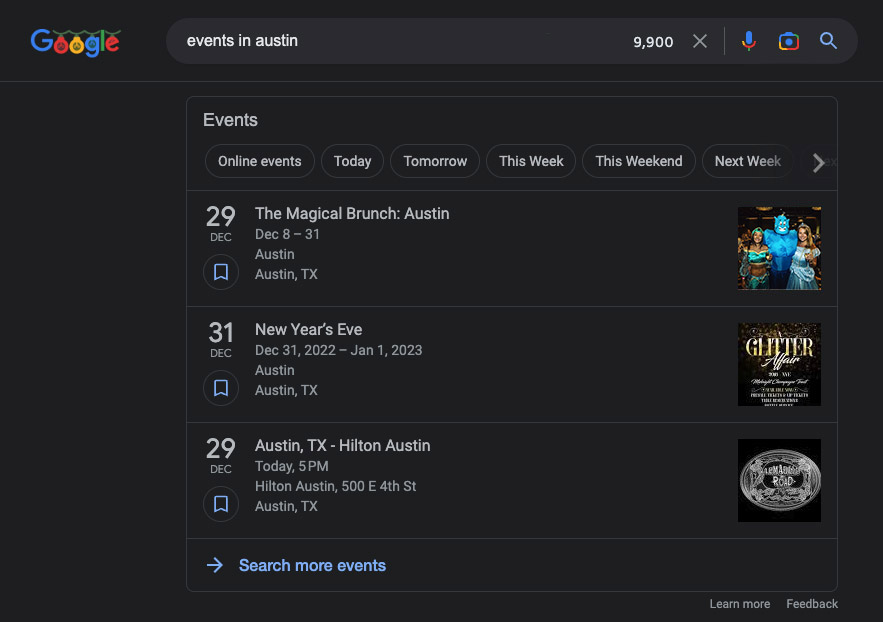 The events module at the top of a Google search page is commonly referred to as the "Google events box" by attendees and organizers. This feature displays a list of events that are relevant to the search query, and it provides information such as the event name, location, date, time, and links to tickets. 
The Google Events Module is designed to help users discover and learn about events that are happening in their area or related to their interests. It is an easy way for users to find information about local events and activities, and to quickly see when and where they are taking place.
The way that Google pulls in events pulls from many sources and can cause mistakes that cannot be fixed because the process is automated. While far from perfect, the Google Events Module is a great way to reach thousands of searches per month looking for things to do in your city.
How Google Events Module works:
Google's Events Module pulls event listings directly from websites and apps that the events are listed on.
For Google to pull in those event listings, the websites they're listed on need to programmatically display the event listings correctly, by using Google's preferred Event Schema markup.
Event Vesta ensures your events make it on Google Events Module:
Our website and event discovery mobile app displays this Event Schema Markup correctly, as do many of the community calendars that we post to. It takes a few days for Google to crawl all of the websites on the internet and find events that have schema set up correctly.
If Google crawls your event on EventVesta.com first, it will pull the event from us. If it crawls your event on a different website first, it will pull from it from that website instead (as long as it has the correct schema markup).
Top event calendar sources from media outlets like The Austin Chronicle and Do512 can often be listed as the source that Google pulls from. For many of our customers, Vesta is responsible for posting to those media outlets.
Vesta posts your events to a lot of websites, and many of those websites are viewed as respectable local news sources in the eyes of Google.
Google finds these events on a lot of different websites, which increases SEO credibility in the eyes of Google's ranking algorithm as well.
The two reasons why events do well:
Beyond getting your event posted somewhere that Google looks to for events, there are a few things that you can do to increase your odds of showing up at the top of Google Search. There are also a few things to avoid that could cause Google to exclude your event.
Google has a set of rules they apply when deciding if they are going to display your event.
One of the major factors in their rules is the event name. We know from a lot of experience (promoting 20,000+ events) that this is a make or break factor.
It is critical that your event have a valid event has a name, date, and location in accordance to Google's rules.
Here are some examples that come directly from Google:
Valid event names:
East Bay Symphony Concert
Music Festival Northwest
Invalid event names:
Trip package: San Diego/LA, 7 nights (Don't use events to promote non-event products or services.)
Music festival – only $10! (Instead, tag ticket prices using the Ticket property.)
Sale on dresses! (Non-event information)
Concert – buy your tickets now! (Promotion)
Concert – 50% off until Saturday! (Promotion)
As you can see, including the ticket price in your title is a bad idea. This is also true for the community calendars. They generally do not accept events with a price in the title.
We have a whole other post on How to Write a Great Event Title That Gets Clicks if you want to learn more.
Another major factor is how widely appealing your event is.
The more niche and specific your event, the lower the total reach will be. That is okay, because you're only targeting a specific group of people. It is just something to keep in mind as you promote your events.
The most successful organizers we work with have a good mix of widely appealing events and targeted events to smaller niches. That way you can use your bigger, wider appeal events as a way to build community engagement and brand awareness. Then you can use your more targeted events to build deeper connections and drive more revenue.
For the Google Events Module, we see the top events are almost always events that nearly anyone could attend. The most common searches on Google are very broad like "events in Austin" or "Things to do this weekend in San Diego" or "live music in Columbus" which should give you an idea of why a small business networking group might not get as many clicks.
This doesn't mean more niche and business-focused events aren't a good idea. It just means expectations should be set for how many people will be interested.
In conclusion, the Google Events Module is a useful feature that allows users to discover and learn about events in their area or related to their interests. It is able to pull event listings from various sources, but sometimes mistakes can occur due to the automated process. 
By using the correct Event Schema markup and posting events on reputable websites, events can maximize their chances of appearing on the Google Events Module.
Factors such as being a broadly interesting event and having a strong SEO presence can also improve an event's ranking on the module.
Streamline Your Event Promotion With Event Vesta's Promotion Services
Join the 600+ event promoters using Vesta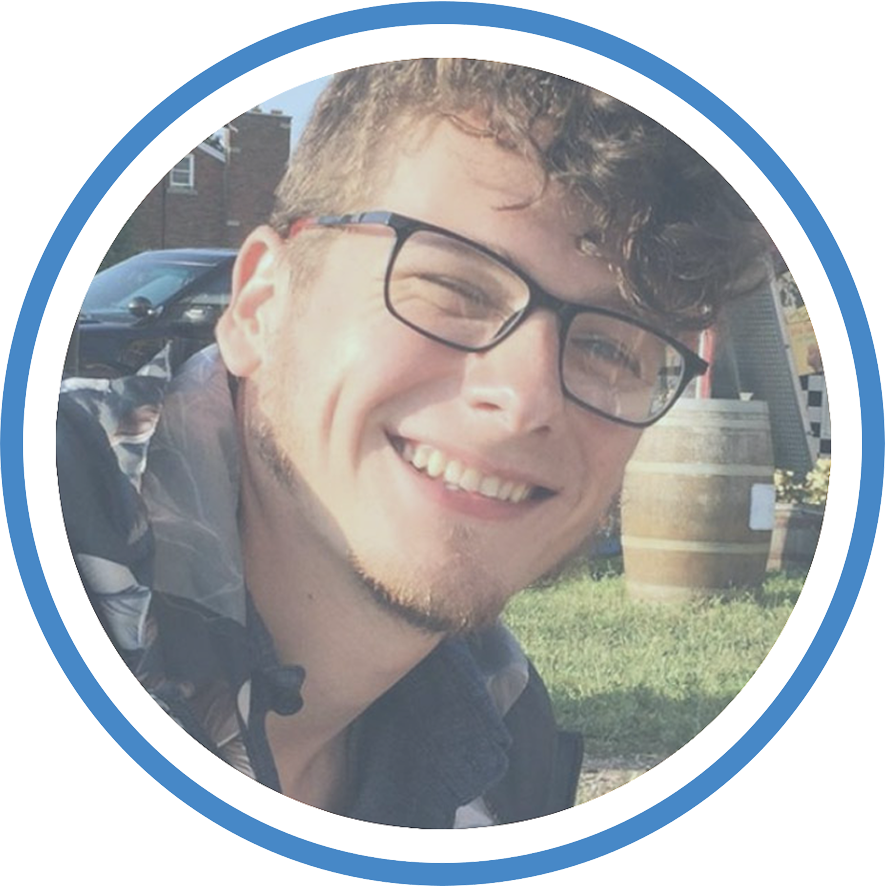 Craig is the Director of Marketing at Event Vesta. He is also Director of the event organization Scale Omaha that cultivates a startup community in Omaha, Nebraska.  Previously he was VP of Marketing at Beeso Studio, President of the Board of Directors at Winker Gallery of Fine Art, and spent nearly a decade in event technology in Austin, Texas and Pittsburgh, PA.