We analyzed data on 22,000+ event promotions and 36 professional event promoters at a variety of different organizations to explore the state of event promotion trends headed into 2023.
The results reflect a varied picture of small-to-medium sized event promoters from across the United States.
Read on to learn more about the uncovered trends and key take-aways.
You can also watch a full video breakdown of the results and take-aways here:
Types of Businesses Hosting Events
The types of event hosts that showed up in our report varied greatly. Traditional event hosts like Performing Arts Centers, Concert Tours, Comedy Clubs, Live Music Venues, Makers Markets, Nightlife, and Festivals were common and generally are operating more established organizations.
Meanwhile, lots of craft workshops, bar crawls, unique experiences, drag brunches, and fitness events performed well too. It seems there has never been a better time to try out creative events regardless of the type of organization you're working with.
Categories of Event Promoters
In our survey, event promoters put themselves into categories so that we could get a feel for what type of events the results represent.
The most common category was broadly Entertainment. Other categories equally represented were Business & Education, Museum, Arts, & Crafts, Wellness & Fitness, and Festivals, Food, & Tours.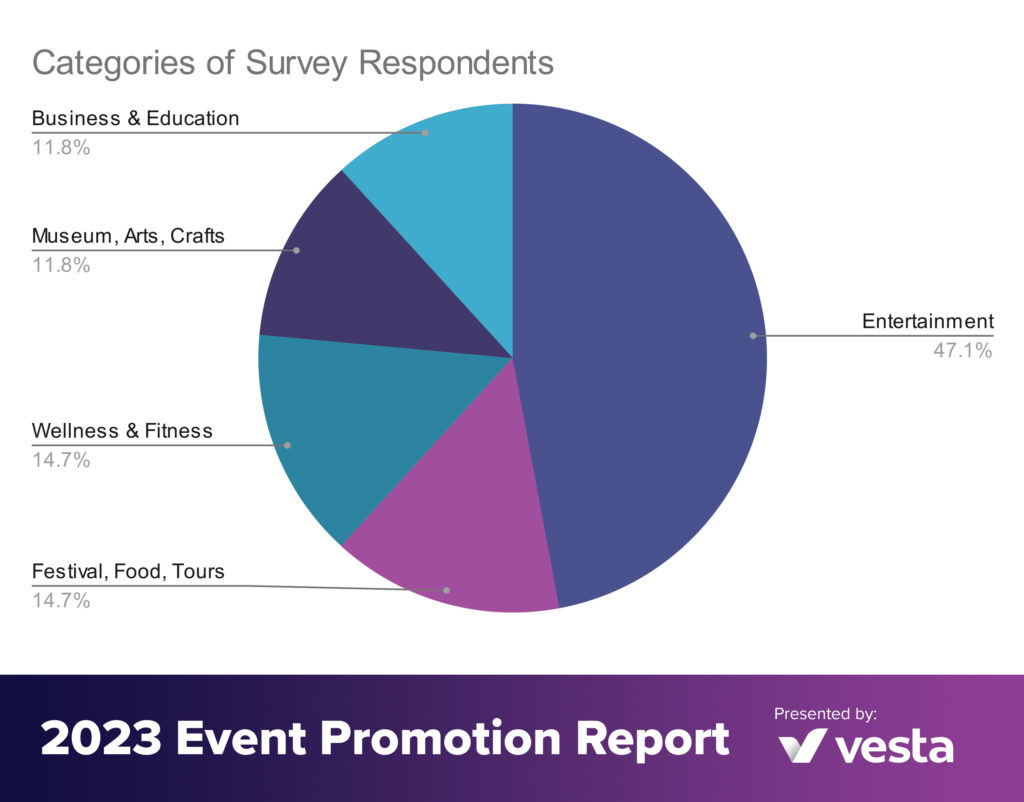 What Job Titles Are Responsible for Promoting?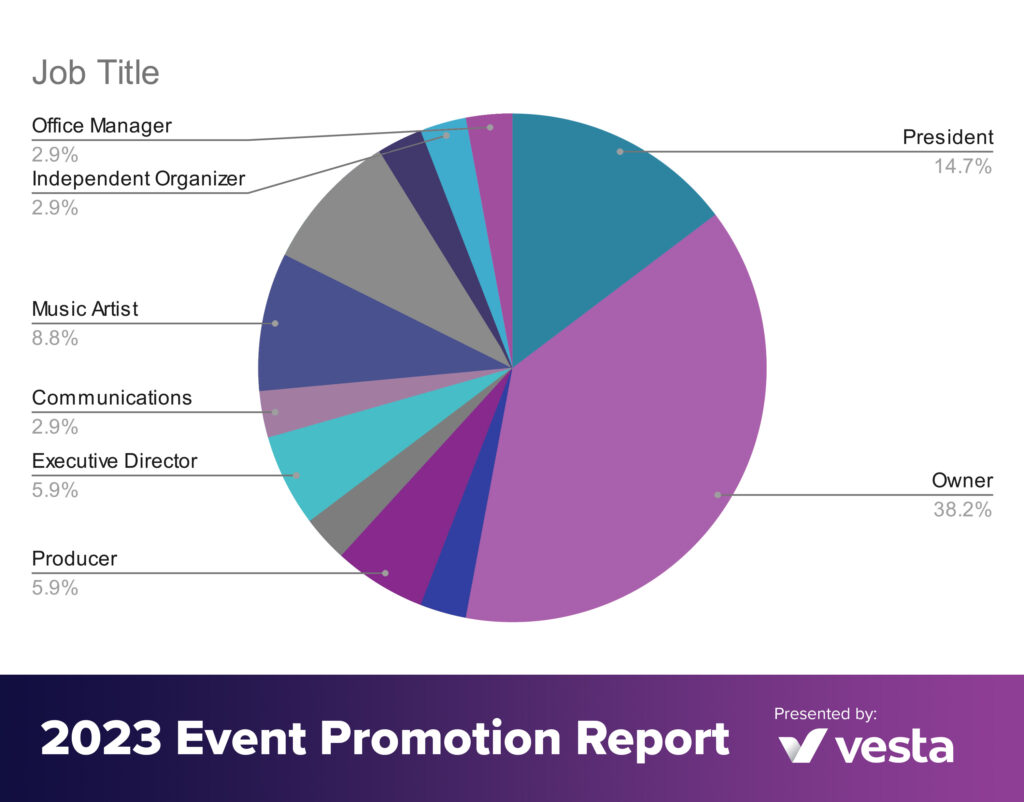 The majority of event promoters that responded held the title Owner, President, or Executive Director. These mostly were from organizations with few employees or non-profits.
Music Artists, Producers and Independent Organizers could also be considered owners in their own right.
Finally, in bigger organizations, the Office Manager, Communications, or Social Media titles were in charge of event promotion. 
There are many different types of events that showed up in our data. More than ever, businesses are getting creative with ways to create events that drive brand awareness, ticket sales, and retail sales.
In the data we analyzed, the 10 most popular events had two comedy shows, one halloween themed music festival, a dance party, a unique movie-themed winter experience, a city-wide fall festival, two Mac and Cheese festivals,  a duck race, a huge farmers market, and a mystery dinner show. 
Those events just included one-location events. The mystery dinner show also had successful events all over the United States, music tours were successful across multiple cities, and a giant bar crawl that happened in over 100 cities on the same date.
Top Event Category Tags Used
Category keywords help event platforms sort events. In the 22,000 events we analyzed, some categories and keywords consistently outperformed others.
More top events used tags For Adults and Date Night than Kid Friendly or Family Friendly. However, in the data we'll get to later, it seems that kid-friendly events are less common, but perform better on a per-event basis than For Adult events.
The top events mention Beer in addition to Wine and Spirits. Nightlife and Socializing are also strong tags.
Live Music had more tags than many other types of entertainment such as Comedy and Theater. However, on average Comedy events performed better per event despite being less common.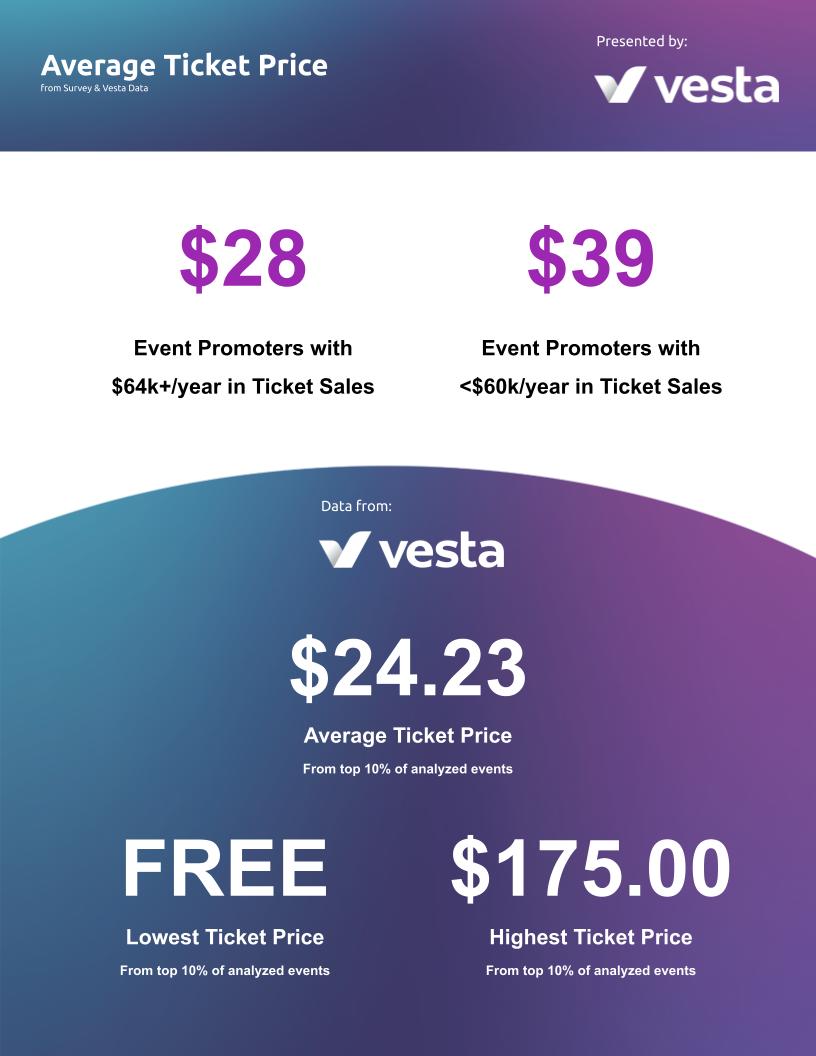 From both the survey and Vesta data, the average ticket price landed around $20-30 for most events.
In the survey, more professional promoters tended to charge lower average ticket prices. This may be because their venues have a much higher capacity and they are also making money from other sources like the bar.
For the most part, tickets didn't exceed $175 in the top events promoted. Some events had much higher ticket prices but their clickthrough rates were much lower. This could be a calculated tradeoff for low-capacity but high value events like training.
Saturdays have about 3x as many events promoted as Sunday. Sundays and Thursdays are about equally popular days to host events. Sundays, however, perform better than both Thursday and Friday. Thursday events still perform better than the first three days of the week. Mondays and Wednesdays perform the worst, even adjusted for amount of events promoted. Tuesdays perform best out of the early-week events.
Overall, according to this data, the best days to host an event, in order, are:
Saturday
Sunday
Friday
Thursday
Tuesday
Monday & Wednesday are tied for last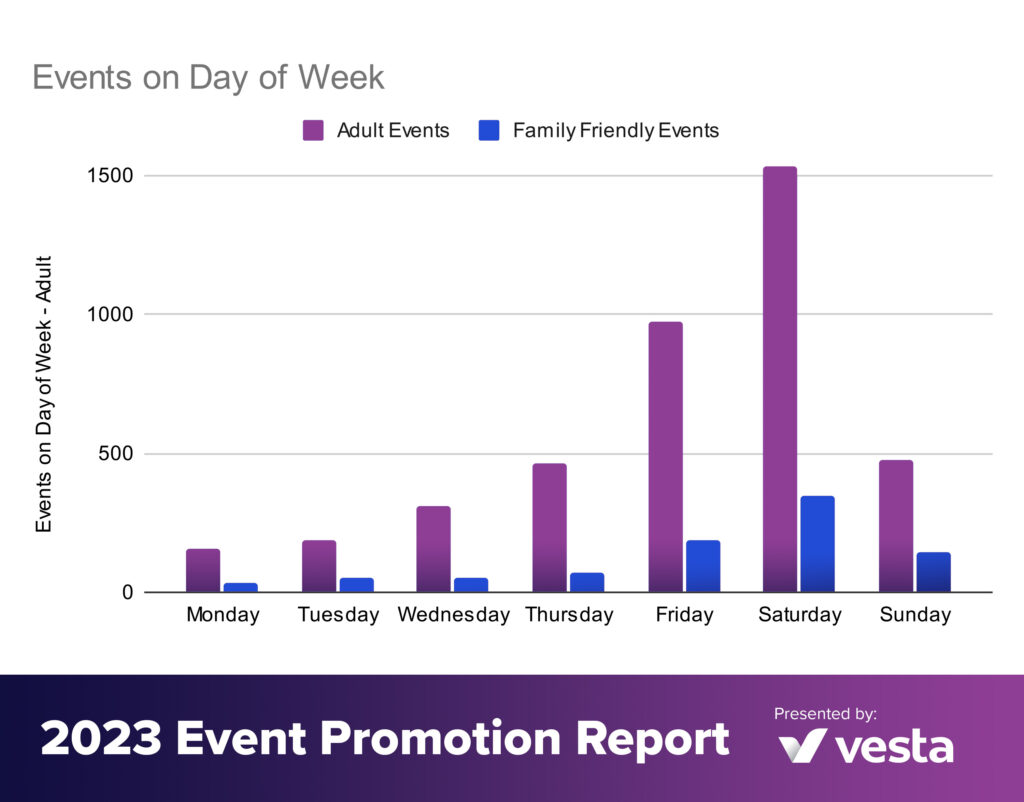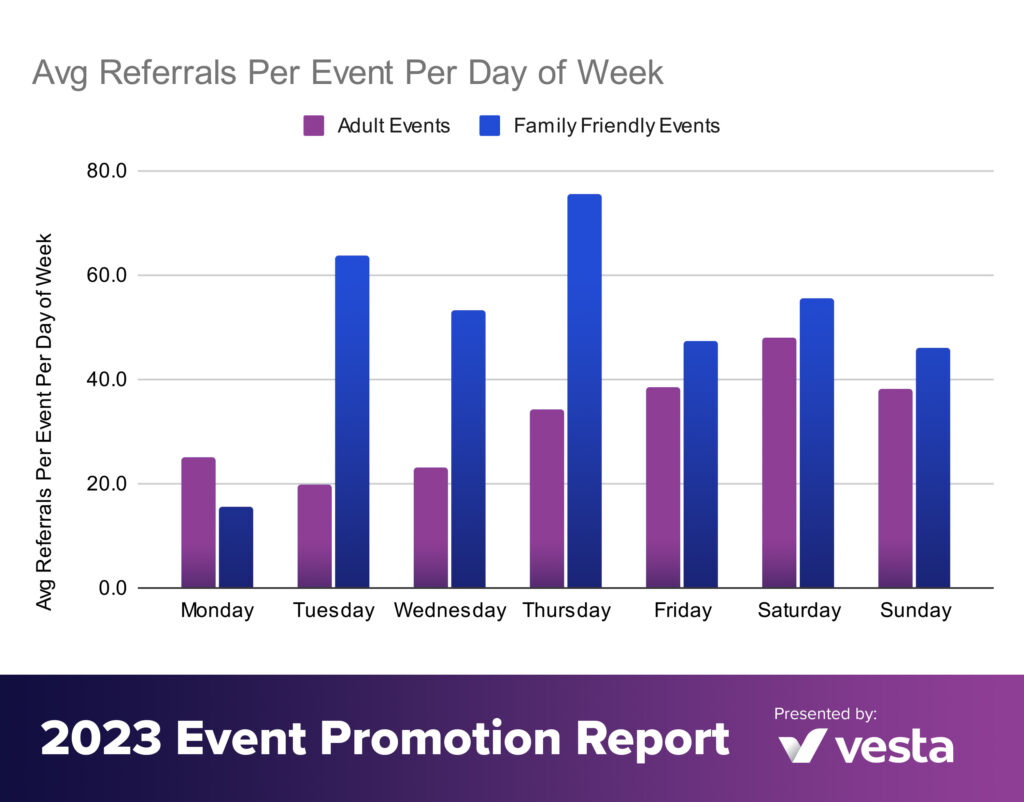 Things get interesting when you break out the data for Family Friendly events vs. For Adult events.
As discussed earlier, there were far more For Adult events promoted in the data, but if you break out clicks (referrals) per event averages, Kid Friendly events performed better.
This may just be because there are less events to weigh down the average, but with how significant the spread is on Tuesday, Wednesday, and Thursday it is worth taking note.
If we were going to base decisions off this data, it looks like there is opportunity to host Kid Friendly events during the week on Tuesday, Wednesday, and Thursday. While For Adult events still strongly perform throughout the week, there is less competition with other events on weekdays and Sunday.
What time of year is best to host events? Well that depends.
Around holidays there is generally a significant lift in the number of events being hosted and interest in those events.
Cinco de Mayo weekend and the weekend before were the most popular days to host events in our data. However there was a high amount of events hosted from Valentine's Day Weekend the whole way through Halloween.
There was, however, a significant drop-off immediately following Halloween. This could be an opportunity for creative event promoters.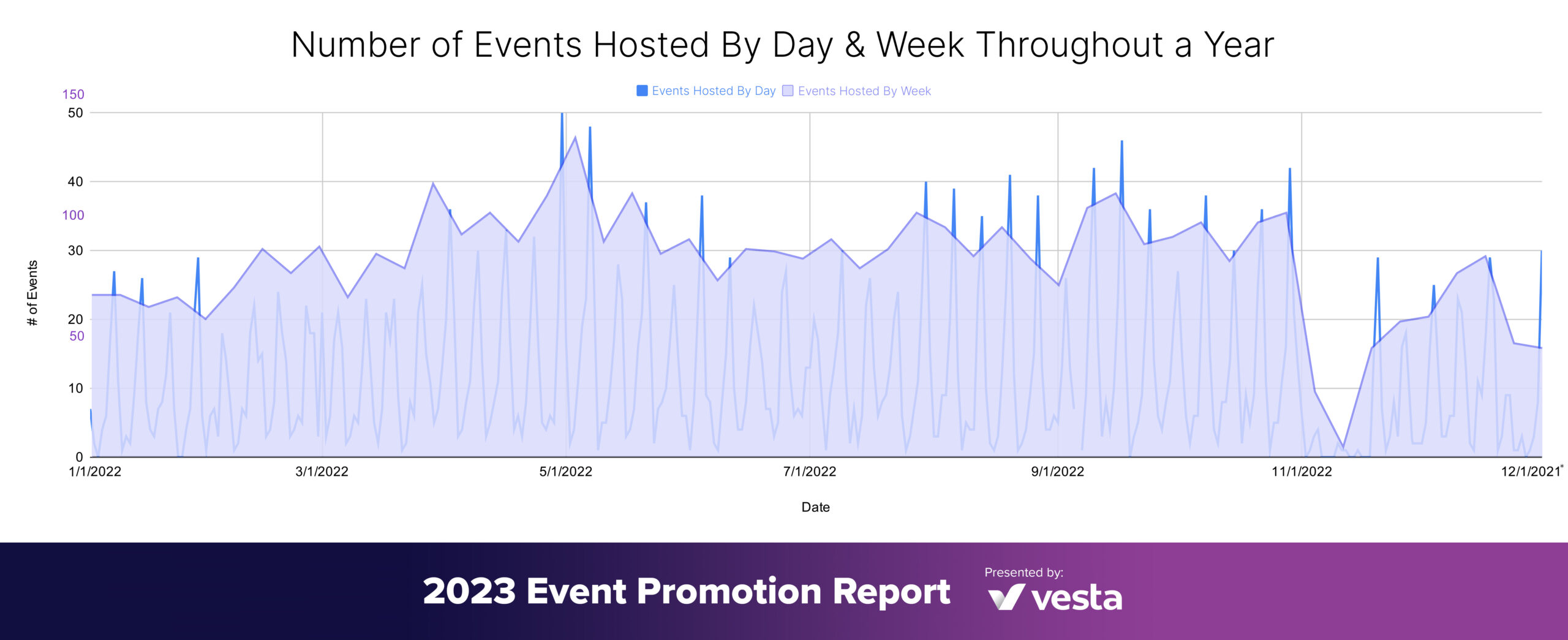 November and early December have a lot of recurring "events" like Holiday Lights and other holiday displays.
There also seems to be a lull in mid-summer. This is the time where big festivals are most common, so there may be an equal amount of interest during the summer. The attendance for those events are just less spread out across the board. 
Promoters With $64k+/year in Ticket Sales
Promoters With Under $60k/year in Ticket Sales
Promoters With Free Events
Out of organizers surveyed, 29% usually spend $0 on promoting events. These organizers did most of their event promotion though free channels like social media and word of mouth. Half of these made less than $60k per year in estimated ticket sales.
For those that did spend money on event promotions, the average went up by 3x for promoters with over $64k per year in ticket sales. They spend an average of $950 per event while smaller promoters spend an average of $300 per event.
The top spenders surveyed ran bigger organizations with medium capacity venues. They spend between $3,500 – $5,750 per event to fill those seats.
Event Promotion Channels Used
The first question was about which event promotion channels the respondents are currently using in 2022. Social Media in this context refers to organic (non-paid) social media while Online Paid Advertising includes Google Ads, Display Ads, and Social Media Ads.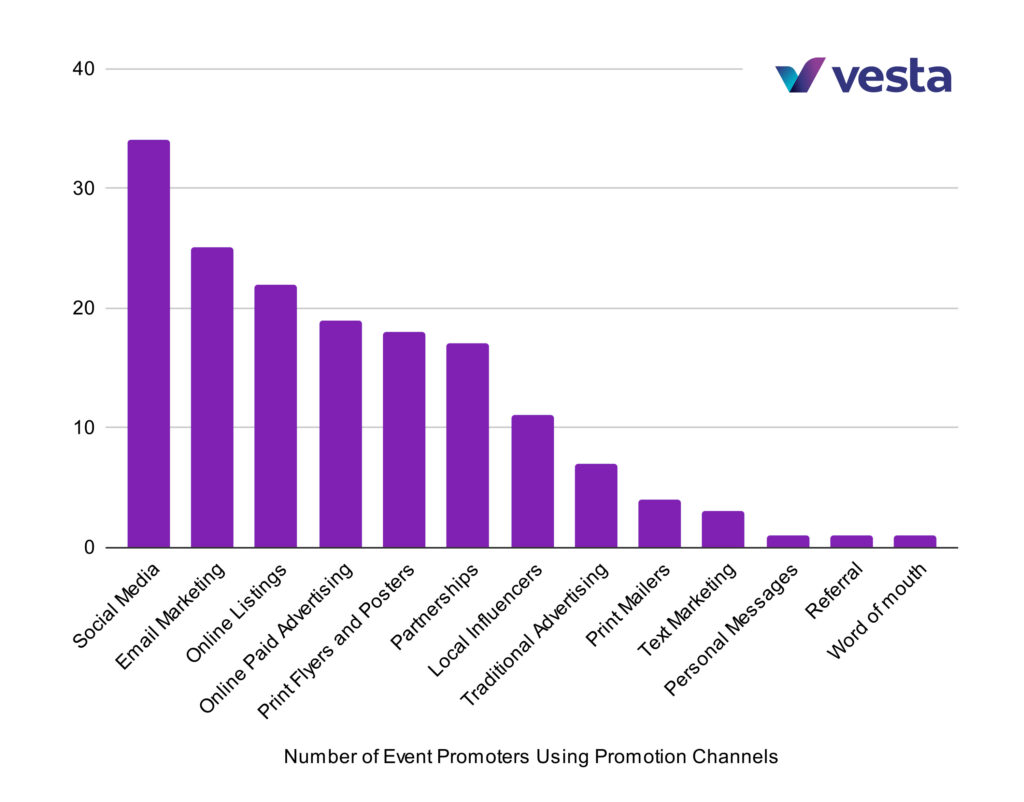 The challenge with these promotion channels that Social Media and Email Marketing generally only reach current followers and attendees. This is where partnering email and social media with Online Listings, Paid Ads, Flyers, Influencers, and Partnerships is a strong way to both reach new event attendees as well as engage current attendees.
Check out our post on 117 Event Promotion Ideas to Attract More Attendees for lots of ideas to reach new event attendees.
Event promoters told us that email and organic social media were the best performing channels in terms of total ticket sales
Again, this is likely because selling new tickets to previously engaged event attendees is more effective than reaching new ones.
For bigger organizations, Paid Ads through both digital and traditional channels made up the majority of other best performing channels.
For smaller organizations, though, there was a dramatic split in the types of channels and tactics used. This may be because organizers without a budget to spend on paid ads have to get creative in finding ways to reach new attendees.
Some of the standouts for smaller promoters were partnerships with other organizations, directly inviting people to the event through text messages and social media messages, and partnerships with local influencers.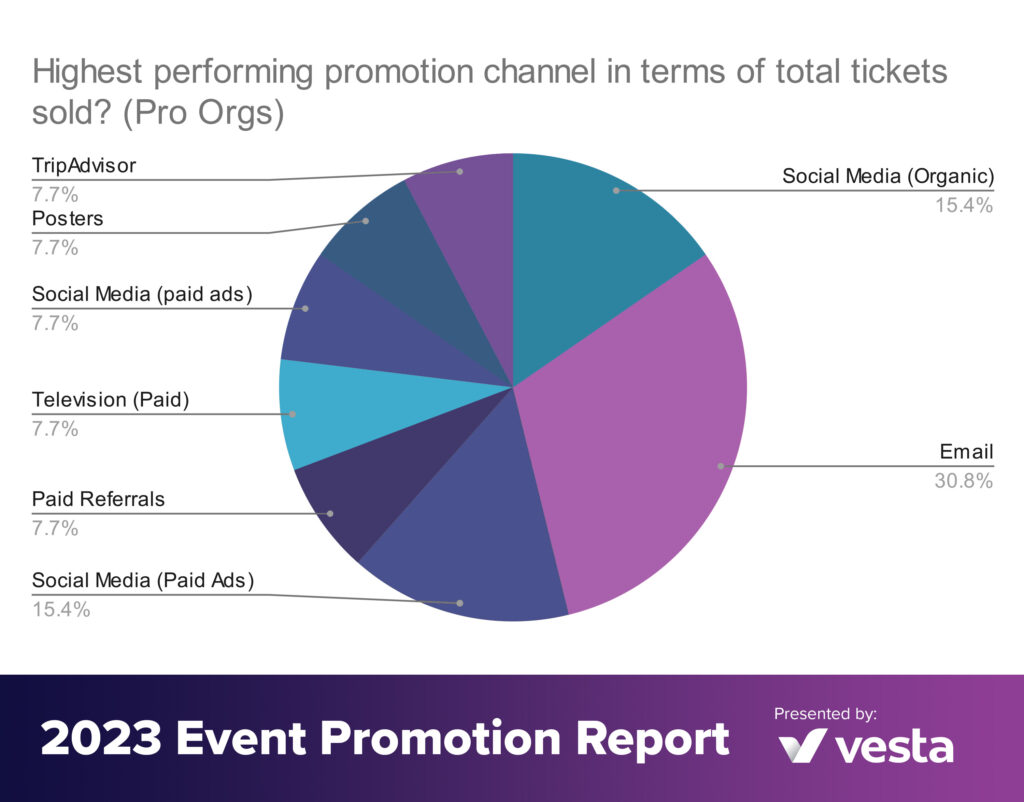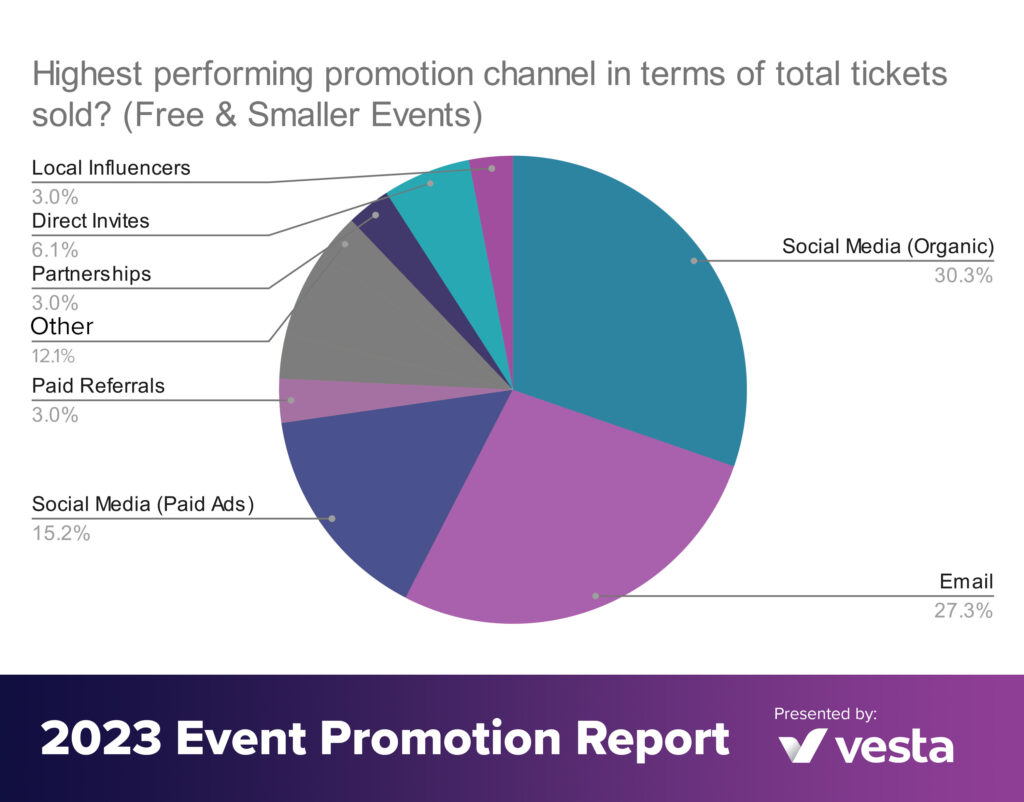 In terms of highest return on investment, it is unsurprising that mostly free channels like Social Media (Organic) and Email were listed at the top for most organizations.
However, most promoters still saw a strong return on investment from Social Media (Paid Ads) and a variety of other sources.
In 2023, event promoters told us that they plan to use far less Print (Mailers, posters, and flyers) and Traditional Advertising (Radio, Newspaper, Billboards, etc).
This trend has been going on in marketing for nearly a decade as the effectiveness of digital marketing continues to grow. However, at least for event promoters, there is still some interest in using these traditional marketing methods to spread the word about their events.
Another huge channel they said they would be using less of is Text Marketing. After speaking more with those that shared this answer, we found that many haven't figured out an effective way to use text marketing without annoying subscribers. 
This is interesting because in many surveys, SMS (text messaging) is how many consumers want to be communicated with about products they opt-in to hear about.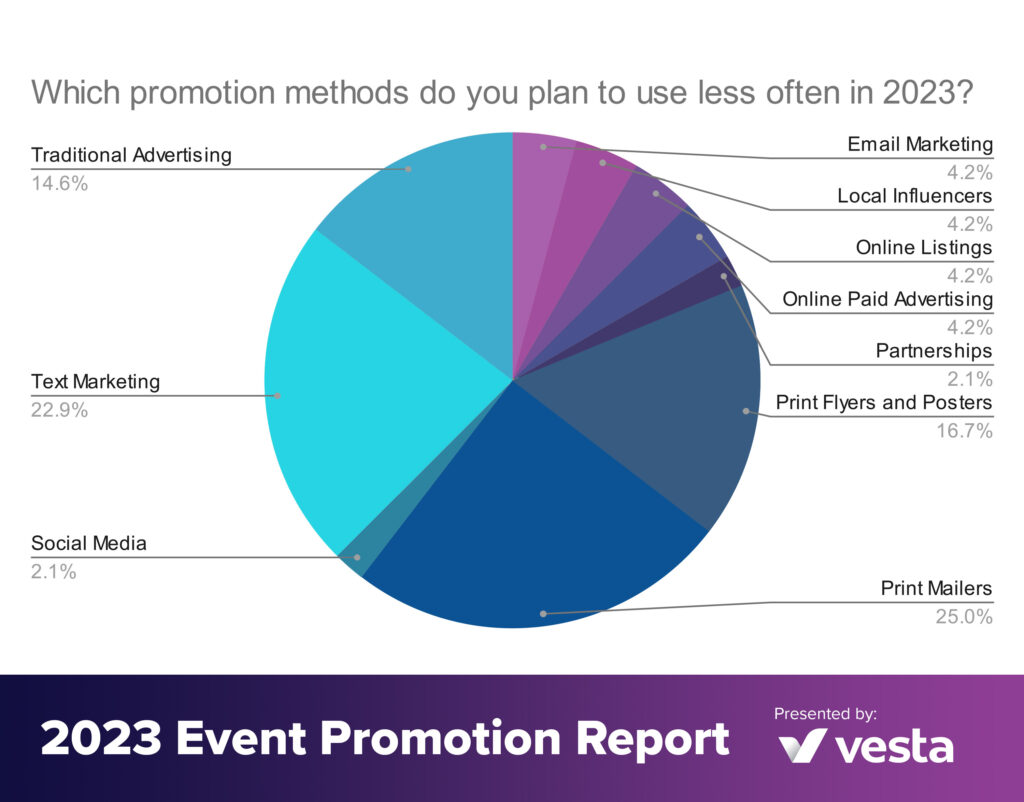 The event promotion channels trending upwards were varied but a few were obvious winners.
Further leveraging Social Media, Online Listings, Email Marketing, and Partnerships with Other Organizations were all common choices for channels that promoters will be doing more of in 2023.
Some promoters also said they would be doing more Text Marketing, Traditional Advertising, and Print despite others abandoning those channels.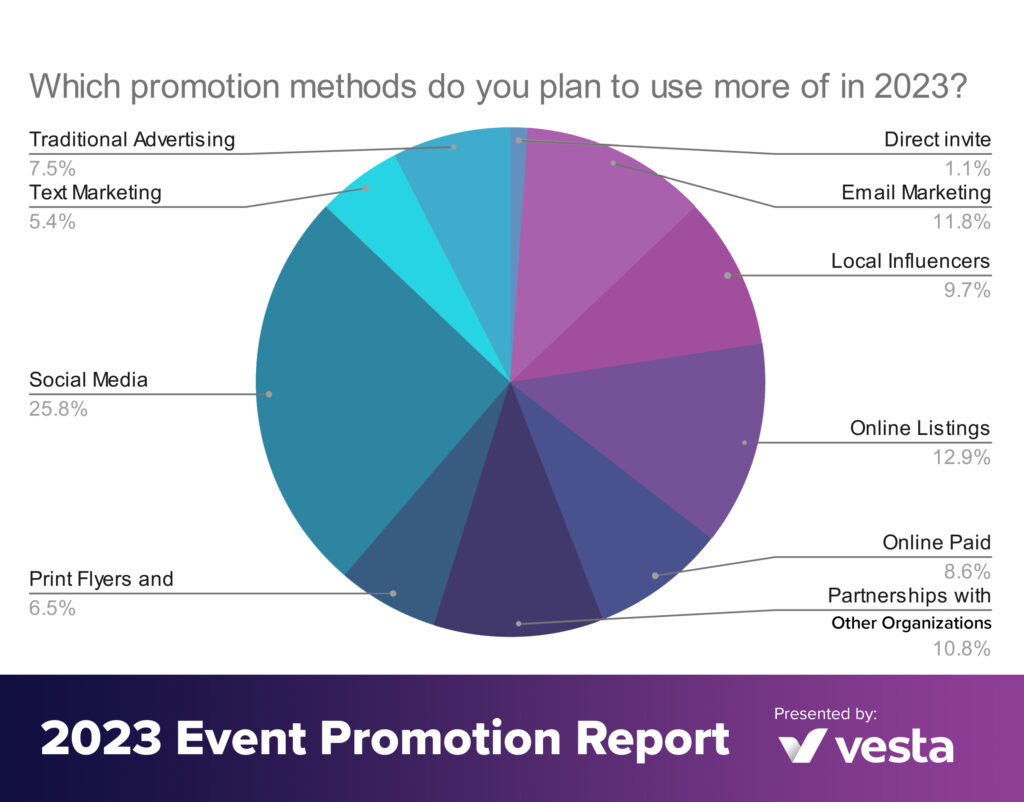 For the biggest organizers in the survey, they don't plan on doing less of any event promotion channel.
Streamlining Online Listings is a priority for them as well as figuring out how to work with Local Influencers better.
They also plan on doing more with Text Marketing, which might further point to other organizers needing to figure out how to use SMS marketing better rather than abandoning it.
Our biggest takeaways are that there are plenty of opportunities in events for a variety of types of organizations.
Save this report to reference when deciding on your own event hosting and event promotion strategies for 2023.
Let us know what you'd like to see in next year's report.
See how Vesta can help you promote your events:
Join the 600+ event promoters using Vesta