Restaurants across the country are constantly looking for new ways to engage customers, drive traffic, and boost revenue. While your food and service keep customers coming back, events are a great way to create excitement and reach new audiences. Whether you're looking to fill empty seats during slow times or build community around your brand, restaurant events allow you to think outside the box and make lasting connections with patrons.
We've seen thousands of successful restaurant promotions over the years and learned which event types deliver the biggest returns. Here are 24 proven restaurant event ideas to bring in more customers:
Restaurant Event Ideas: Foodie Events
Delicious food and drink are the main attractions at any restaurant event.
For true foodies, a chance to taste different cuisines, dishes, and flavors can be an unforgettable culinary experience. Here are some ideas to make it even better:
Beer And Food Pairing: Pairing Different Beers With Complementary Foods
Beer and food pairings allow patrons to experience how different beers can complement and enhance the flavors of specific dishes. Restaurants of all cuisines can design events around beer pairings that match their specialties.
For example, Mexican restaurants could offer pairings of traditional cervezas like Pacifico, Modelo, or Dos Equis with classic appetizers like ceviche, queso fundido, or empanadas. The hoppy, malty notes of certain beer styles balance and intensify the spicy flavors of tacos al pastor or enchiladas.
Italian restaurants could match lighter lagers with antipasti starters and fuller bodied beers with hearty pastas.
Teaching customers about the harmony of tastes in a guided beer and food pairing event creates a unique culinary experience they won't find anywhere else.
Beer and Food Pairings are one of the more successful types of restaurant events we have promoted.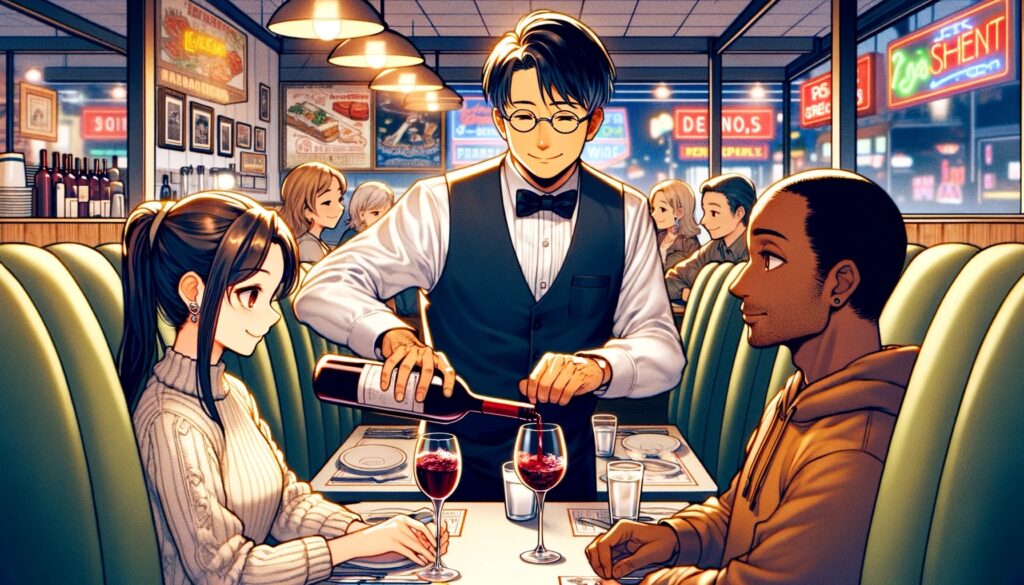 Wine Tastings – Host Sommeliers To Guide Guests
Wine tastings hosted by knowledgeable sommeliers provide guests with an education in wine appreciation.
Restaurants can partner with local wine distributors or shops to bring in experts to guide patrons through structured tastings. Sommeliers will select a thoughtful flight of wines and walk through each selection, teaching proper tasting technique and providing context on the aroma, body, flavors, and ideal pairings for each wine.
Patrons get exposure to new varieties while learning about the history, terroir, and production methods behind each label.
Italian restaurants could focus on regional Italian wines, while French bistros may highlight French vintages.
Wine tastings expand customers' palates while creating a sophisticated, elevated dining experience.
Here are some tips on where restaurants can find and hire sommeliers to host wine tasting events:
Contact local wine shops or distributors and ask if they have staff sommeliers who offer their services for external events. Many wine experts enjoy opportunities to showcase their knowledge.
Reach out to the chapter of the Court of Master Sommeliers in your state or region. They often have a directory of certified members available for hire.
Post on industry job boards or forums for dining and hospitality professionals in your area. There are often active sommeliers or wine directors looking for extra work.
Ask your restaurant staff and chef contacts if they have sommelier friends or connections who could help host an event.
If your restaurant has a knowledgeable wine expert on staff already, have them lead the tasting and training to enhance their resume.
For a high-end experience, you can look into hiring a Master Sommelier, the highest designation in wine expertise and professionalism.
With a bit of networking and research, you should be able to find experienced, certified sommeliers excited to share their knowledge and host unique wine tasting events at your restaurant. Reach out early as their calendars fill up quickly!
Cocktail Classes with Mixologists
Cocktail classes with professional mixologists make for exciting restaurant event ideas.
Restaurants can collaborate with local mixologists or bartenders to host evening classes teaching patrons how to make tantalizing cocktails. Participants will learn insider techniques for ingredients, shaking, garnishing and presenting drinks like pros.
Mixologists will provide history and trivia about popular spirits and classic cocktails while guiding the class through recreating recipes like margaritas, old fashioneds, or mojitos step-by-step. Patrons will gain valuable skills to make impressive craft cocktails at home, while restaurants attract new food and drink fans.
Here are some key qualities and skills that make a good mixologist:
Extensive knowledge of spirits, liquors, bitters, syrups, and other cocktail ingredients – A mixologist needs to understand flavors and profiles of all the elements that go into cocktails in order to craft balanced and harmonious drinks.
Creativity and imagination – The best mixologists have innovative minds to come up with unique flavor combinations, infusions, presentations, and garnishes. They can reimagine classic cocktails or invent new ones altogether.
Superior palate – An excellent sense of taste is required to achieve optimal flavor in cocktails. A mixologist has to perceive subtle nuances and know how ingredients will interplay.
Flair – Mixologists put on a show with their preparation and presentation. They have bartending skills like tossing bottles, pouring from a distance, layering, etc.
Attention to detail – Precise measurements, ratios, preparation, and garnishes are vital to a well-crafted cocktail. A mixologist obsesses over the details.
Hospitality skills – They make the cocktail experience educational and entertaining for patrons through friendly customer service and good storytelling.
The best mixologists balance technical skills with creativity, precision, and hospitality. They share their passion and elevate the entire cocktail experience. These talents make mixologists shine when hosting restaurant cocktail classes.
The interactive cocktail class brings something new and hands-on compared to other restaurant events.
Celebrity Chef Collaborative Dinners
Collaborating with well-known chefs is a great way for restaurants to create buzz and exclusive dining events. Partner with celebrity chefs to host one-of-a-kind dinners showcasing each of your signature styles.
These collaborative pop-ups bring together the culinary creativity of different chefs to design unique multi-course tasting menus. Diners get to sample dishes they couldn't find anywhere else, created by culinary stars working together.
The collaborative dinners create an exclusive experience that gives local restaurants exposure and provides famous chefs an intimate setting to innovate.
Here are some tips for local restaurant owners to find and hire celebrity chefs for collaborative dinners and events:
Research which prominent chefs have restaurants or connections in your city or region already. They may be more likely to participate in a local event.
Follow celebrity chefs on social media and reach out to see if they have availability or interest when they'll be in your area.
Contact the publicity team or agent for a celebrity chef and pitch the collaborative event. Offer to co-promote their participation.
Attend industry events like food festivals where you may interact with well-known chefs. Pitch the idea in person and start a relationship.
Partner with a catering company or event producer that has existing relationships with celebrity chefs they can leverage.
Promote the collaborative event first to build buzz. Celebrity chefs may be more interested in something gaining traction.
Be flexible on timing and understand their high appearance fees. This is an investment in creating a high-value experience.
Promote their charitable causes or sustainability efforts as part of the event if applicable.
For example, in Atlanta you could simply search "Atlanta celebrity chefs" to research prominent local chefs.
This search will bring up lists and articles highlighting the top celebrity chefs with restaurants and connections in Atlanta.
For example, some results showcase chefs like Anne Quatrano, Pinky Cole, Hugh Acheson, and Richard Blais who have made names for themselves in Atlanta's thriving dining scene.
The search will turn up bios, restaurant info, media features, and charity work for prominent Atlanta chefs. Event organizers can use this information to see who might be a good fit for a local collaboration dinner or to research which chefs have relationships in the city already. This quick search provides a starting point for finding celebrity chefs with a presence in the local area.
With persistence and a compelling pitch, you can land a collaboration with an in-demand celebrity chef to create a truly special dining event for your restaurant guests.
Promote the event to attract foodies eager for a rare chance to enjoy an inventive meal from renowned culinary icons and rising star chefs all in one evening.
Spice Up Restaurant Events with Live Cooking Competitions
If you're looking to create an exciting and engaging restaurant event, live cooking competitions are a fantastic idea.
Watching talented chefs go head-to-head in a cook-off provides edge-of-your-seat entertainment for guests. The competitive energy and creativity on display make for a thrilling culinary showcase.
Restaurant event ideas like inviting guest chefs or amateur cooks to compete by cooking the same dishes or utilizing mystery basket ingredients are fun variations. Guests can sample the submissions and vote for their favorite. Offer prizes like gift cards, chef merchandise, or a restaurant experience to up the stakes.
Cooking competitions are highly visual events perfect for social media engagement.
Have guests post pictures of the action using a unique hashtag. The suspense, cheering fans, and prize at the end make for a riveting restaurant promotion.
Here are some ideas on how to plan a live cooking competition event at your restaurant:
Decide on a format – head-to-head battles, mystery basket challenges, or cooking duels with secret ingredients.
Recruit competitors by reaching out to local culinary schools, amateur chef groups, or promoting an application process.
Hire judges with food/restaurant experience to evaluate dishes and break ties. This could be a local celebrity chef!
Partner with companies like Culinary Fight Club that specialize in producing cooking competitions and events.
Promote the event on social media and with visual signage at your restaurant. Have guests register/buy tickets. If you need free ticketing, let us know!
Set up staging and seating so guests can view the competition. Have AV equipment to spotlight the action.
Supply each cooking station with equipment, ingredients, utensils and an electric burner.
Create a ballot for spectators to vote on their favorite dishes.
Have a host or emcee kick things off by introducing the format, competitors, judges and prizes.
Keep the competition moving with timed rounds, but allow spectators to interact and cheer on their favorites.
Judges will provide feedback and scores after each round, with lowest scorers eliminated.
Award prizes to the winning competitor during a ceremony. Capture photos and videos for social media.
With the right planning and production, a live cooking competition can be an energetic, engaging event for your restaurant patrons!
Bring in the Butchers: Restaurant Event Ideas for Meat Cutting Workshops
For restaurants specializing in meat focused cuisine, collaborating with professional butchers on educational workshops is an impactful event idea. Partner with whole animal butchers to lead classes right in your restaurant teaching patrons the nuances of cuts of meat.
Butchers can explain the differences between prime cuts like ribeye, strip steak, and tenderloin. They'll cover lesser known and utilized cuts, providing tips on proper cooking methods to make each cut shine. You'll be able to showcase how these cuts are used in your restaurant's signature dishes.
Butchers can also demonstrate breaking down whole pigs, lamb, goat, or beef into primal and subprimal cuts. The hands-on breakdown gives attendees a deeper look into all the parts of an animal beyond what's sold in grocery stores. They'll gain a new level of knowledge and appreciation around meat that enhances their experience at your restaurant.
Adding a butchery skills component takes meat cutting workshops a step further for true hands-on learning. These educational and interactive restaurant events are perfect for chefs and carnivorous customers passionate about meat cookery and charcuterie.
Restaurant Event Ideas: Social Events
Restaurants are about more than just good food – they are community gathering places that foster engagement. The right social events can enhance your customers' experience and enjoyment of your establishment.
Offering fun activities alongside delicious menus is a way to attract new crowds and bring regulars together around shared interests. From entertaining game nights to interactive dinner theater, we have restaurant event ideas to turn your space into the hottest social hub.
Upcoming parties, weddings, or group outings are the perfect opportunities to showcase what your restaurant has to offer through catering and private dining events.
Read on for restaurant event inspiration that will have your guests bonding, laughing, and making memories over great food and drinks.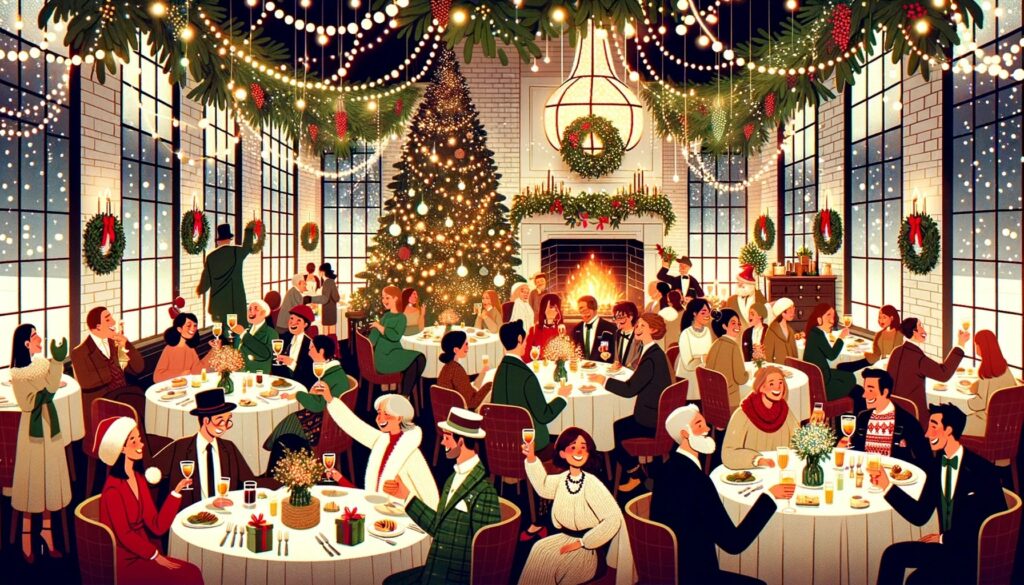 Holiday Bash Catering
The holiday season is one of the best time to host events according to our data. Restaurants have a unique advantage and opportunity to create memorable experiences for their patrons.
Hosting a holiday bash can be an excellent way to attract new customers, reward loyal ones, and boost your restaurant's revenue. One of the key elements to consider when planning such an event is catering.
Holiday bash catering goes beyond just serving food; it's about creating an ambiance, offering exceptional service, and curating a menu that embodies the spirit of the season.
Here's how you can elevate your holiday restaurant events to make them truly exceptional:
Theme and Decor: Start by choosing a festive theme for your holiday bash. Whether it's a winter wonderland, a cozy fireside gathering, or a glamorous black-tie affair, your theme should guide your décor choices. Decorations, table settings, and lighting should all align with your chosen theme to create a visually appealing and immersive atmosphere.
Seasonal Menu: The heart of any holiday bash catering is the menu. Consider crafting a menu that features seasonal ingredients and flavors. Incorporate traditional holiday dishes with a twist, and don't forget to include options for various dietary preferences, such as vegetarian, vegan, and gluten-free. A well-curated menu will leave a lasting impression on your guests.
Signature Cocktails: To complement your seasonal menu, create signature holiday cocktails. These can be based on classic favorites like mulled wine, eggnog, or hot toddies, but with your unique restaurant twist. Offering a variety of alcoholic and non-alcoholic options ensures that all guests can partake in the celebration.
Live Entertainment: Elevate the atmosphere of your holiday bash with live entertainment. Consider hiring a live band, a DJ, or even a group of carolers to serenade your guests. Live music can set the mood and get everyone in the holiday spirit.
Interactive Food Stations: To add an element of fun and engagement to your event, set up interactive food stations. Think DIY dessert bars, build-your-own taco stations, or even a carving station for roasted meats. Interactive stations not only provide entertainment but also allow guests to customize their dining experience.
Specialty Desserts: Don't forget about dessert! Offer a selection of decadent holiday sweets, from traditional pies and cookies to inventive desserts like gingerbread tiramisu or peppermint lava cakes. Consider partnering with a local bakery for a collaborative dessert menu.
Festive Ambiance: Enhance the overall ambiance of your restaurant with festive decorations. Adorn your space with twinkling lights, holiday wreaths, and seasonal centerpieces. A well-decorated restaurant can transport your guests to a winter wonderland.
Personalized Service: Exceptional service is crucial for a successful holiday bash. Train your staff to be attentive, friendly, and knowledgeable about the menu. Offer personalized touches, such as welcome drinks or small holiday-themed gifts for guests.
Photobooth and Keepsakes: Create lasting memories by setting up a holiday-themed photobooth. Encourage guests to take pictures and provide props like Santa hats and reindeer antlers. You can also offer keepsakes like custom holiday ornaments with your restaurant's logo.
Promotions and Marketing: Don't forget to promote your holiday bash catering in advance. Utilize social media, email marketing, and your restaurant's website to spread the word. Consider offering early bird discounts or exclusive packages to entice reservations.
Holiday bash catering is an excellent way to make your restaurant stand out during the festive season.
Paying attention to every detail, from the menu and decorations to the service and entertainment. By doing so, you can create a memorable and enjoyable experience for your patrons.
Baby Showers and Wedding Catering
Many restaurants already know how valuable wedding and baby shower catering can be for your business. It can be hard to get the word out and show how your offering can be different. One event idea is to how a sampling for baby showers or wedding catering. Instead of one-by-one tastings, invite the community to see what you can offer.
1. Create a Theme-Infused Atmosphere:
The success of your sampling event begins with setting the right ambiance.
Choose a theme that resonates with both baby showers and weddings.
For example, you could opt for a romantic garden theme with floral decorations and soft lighting or a whimsical theme adorned with pastel-colored decor and balloons.
The chosen theme should reflect the essence of the events you aim to cater to.
2. Showcase Your Diverse Menu:
The heart of your sampling event is, of course, the food.
Curate a menu that showcases the diversity of your catering offerings. Include a variety of dishes that cater to different tastes, dietary preferences, and cultural backgrounds.
For baby showers, consider including both sweet and savory options, such as mini quiches, stuffed mushrooms, and an assortment of petite desserts.
Wedding catering should encompass a broader spectrum, from elegant appetizers to sumptuous entrees and decadent desserts. Don't forget to feature a selection of signature cocktails or craft mocktails.
3. Interactive Food Stations:
Engage your guests by setting up interactive food stations.
These stations can highlight the versatility of your catering services and create memorable experiences for attendees.
For a wedding-themed station, consider a made-to-order pasta bar with a variety of sauces and toppings.
At a baby shower station, you might have a DIY cupcake decorating area with an array of frostings, sprinkles, and edible decorations.
These stations not only provide entertainment but also allow guests to envision the possibilities your catering service offers.
4. Offer Exclusive Packages:
Take advantage of the sampling event to introduce exclusive catering packages tailored to weddings and baby showers.
These packages can include a range of services such as menu customization, table settings, and even event coordination. Highlight the convenience and value these packages bring to hosts, making it easier for them to plan their special day with your expertise.
5. Engage with Your Community:
Beyond showcasing your culinary skills, use the sampling event as an opportunity to engage with your local community.
Invite engaged couples, expectant parents, event planners, and even local businesses. Encourage guests to share their feedback and suggestions, fostering a sense of involvement and community connection.
6. Leverage Promotion:
Promote your sampling event through social media platforms, local event listings, and your restaurant's website.
Create enticing visuals of your menu items, decor, and the overall atmosphere to generate excitement and attract attendees. Encourage guests to use event-specific hashtags when sharing their experiences on social media, further boosting your restaurant's online presence.
We've seen some restaurants go big by giving away a catering package as a way to really boost their event's promotion. This is something that will help you leverage local influencers and media partners to gain more reach because it is truly exciting a buzz-worthy.
7. Capture Contact Information:
During the event, collect contact information from attendees who express interest in your catering services.
This information will be invaluable for follow-up communications and marketing efforts, allowing you to nurture potential leads into future clients.
Hosting a sampling event tailored for baby showers and weddings can be a powerful marketing tool for your catering services.
It not only allows you to showcase your culinary talents but also provides a platform to engage with your community and introduce exclusive catering packages.
By curating a delightful experience for attendees, you can leave a lasting impression and secure bookings for these cherished life events.
Sampling events are not just about tasting food; they are about tasting the future of unforgettable celebrations with your catering expertise.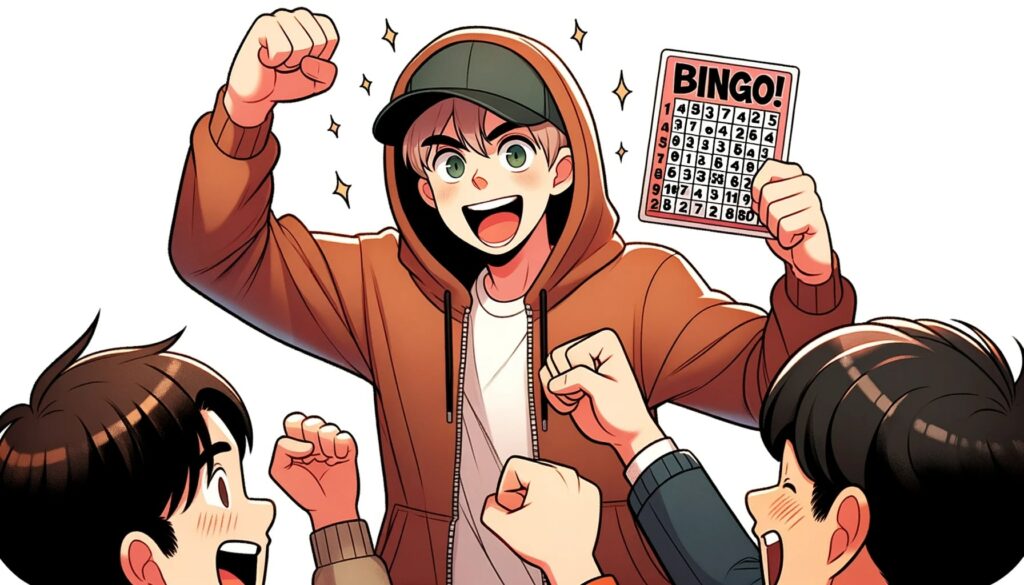 Themed Bingo Night: A Winning Combination
What's more fun than yelling "Bingo!" after filling out your card? Shouting it alongside friends during a themed bingo night! Restaurants can host immensely popular bingo events centered around unique themes for major entertainment value.
Options for themed bingo night restaurant events include decades like 80s or 90s bingo, holiday bingo for Christmas or Halloween, and pop culture bingo with categories like TV shows or movies. Provide cards and markers for guests to play various rounds while enjoying drinks and snacks. Award fun prizes like restaurant gift certificates, swag, or bottles of wine to winners each round.
We have a Music Bingo Night in Omaha that we've been promoting for years that always is well attended by people of all ages. People love it.
Themed bingo events are easy for restaurants to organize and give guests a lively activity that encourages bonding.
The game format appeals to patrons across generations and accommodates larger groups for birthdays or office parties looking to celebrate at your establishment. Shake up the usual dining routine and give your guests a winning good time with inventive themed bingo nights.
Showcase Your Regulars' Smarts with Trivia Nights
Trivia nights at restaurants cultivate community and friendly competition amongst patrons. Hosting weekly bar trivia is a fantastic recurring event that gives teams of customers a chance to flaunt their random knowledge.
The trivia games can cover a wide range of topics from pop culture and music to history, movies, and sports. Guests pay an entry fee to play and get ballots to write their team name and answers for multiple rounds of questions. The winning teams with the highest scores take home fun prizes like restaurant gift cards, swag, or trophies.
To maximize the quality and ease of hosting bar trivia nights, restaurants can partner with trivia companies like Geeks Who Drink.
They supply experienced trivia hosts, engaging question content, promotional materials, and prize coordination. They handle the AV components and announcing scores to keep the game moving smoothly. With professional services handling the trivia event production, restaurants can focus on providing a fun atmosphere and specials for players.
Trivia nights enhance patron bonding since teammates rely on each other's intellect and strengths across different categories. Offer food and drink specials to accompany the brain games and attract players looking for a lively night out.
With the right emcee personality, trivia events can be incredibly entertaining for restaurant goers seeking stimulating social fun.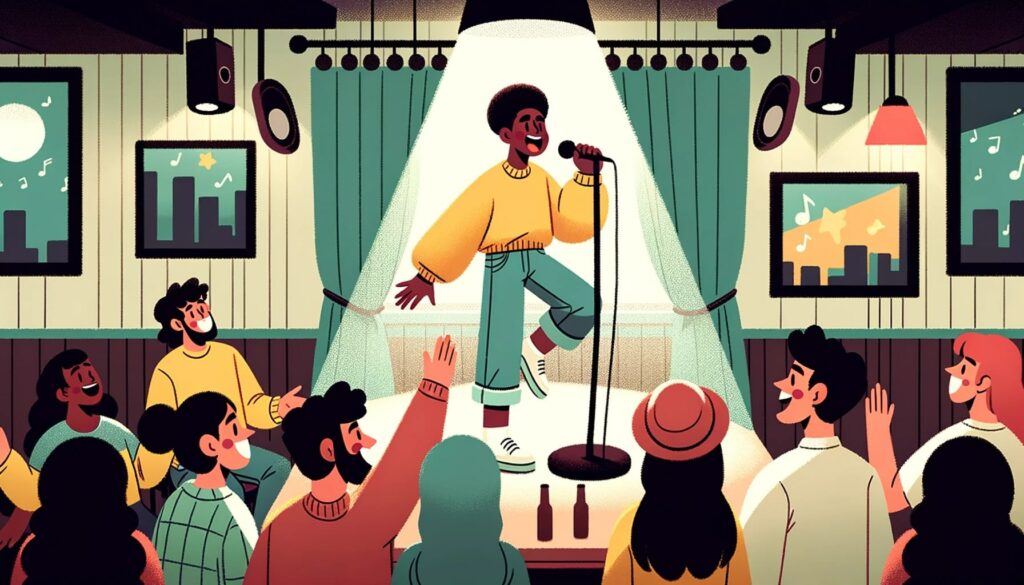 Encourage Singing, Laughter, and Fun with Karaoke Nights
Give your guests a chance to belt out their favorite tunes with entertaining karaoke nights. Providing karaoke is an easy way for restaurants to create a lively, festive vibe. Patrons can enjoy food and drinks while taking turns at the mic performing karaoke songs.
Set up a quality karaoke machine, screens to display lyrics, and mic stands around your space. Have a selection of popular songs across genres to choose from. Guests can flip through the songbook and sign up for slots to sing solo or with friends. Keep the music and performances going all evening.
Karaoke restaurant events encourage participation and silliness that strengthens customer relationships. The courage to take the stage inspires support and cheering from fellow patrons. Spotlight regulars who showcase impressive singing talents at each karaoke night. Offer food and beverage specials to entertain the crowds and reward brave vocalists. An evening of karaoke provides tons of fun your guests will talk about long after the last song.
Dinner and a Show: Restaurant Event Ideas for Drag Performances
For an entertaining restaurant event that is equal parts lively cabaret and delectable dinner, consider hosting drag show performances. Partner with local drag queens and kings to put on spectacular dinner theater shows right in your establishment.
Work with drag performers ahead of time to develop acts, routines, and musical numbers tailored for your audience and venue.
Promote the shows to attract patrons who will enjoy the humorous entertainment and excitement. Decor transforming part of your space into a colorful cabaret setting and providing table service during the show adds to the experience.
Across the country we see drag brunches and drag dinners perform very well. There's a dedicated community looking to support events like these.
In between dazzling musical, dance, and comedy routines by the drag cast, servers can present courses of specialty sharing plates and cocktails.
The dazzling performances will have the energy buzzing all evening. Spotlighting local drag talent is a great way for restaurants to provide one-of-a-kind lively entertainment alongside delicious food and drinks. It's a dinner and show combo guests won't be able to resist!
All Aboard the Party Bus for a Restaurant Tour
Here's a restaurant event idea to get patrons pumped for an adventurous eating and drinking extravaganza – organize a party bus tour of popular local eateries!
Partner with transportation companies to provide party buses or limos to ferry groups between restaurants for exclusive tours.
Plan routes with stops at 3-4 top spots where guests can enjoy cocktails, apps, tasting menus, or desserts. Restaurants will get exposure to new potential regulars. Keep the energy high between stops with a rockin' playlist and drinks on the bus.
Make the tour themed around events like a holiday bar crawl, birthday brewery tour, or World Cup restaurant rally.
Party bus tours are perfect for corporate team building outings, bachelor/bachelorette parties, or friend get-togethers.
Guests get a built-in crew to experience the local dining scene with and restaurants see increased visits and sales. It's a win-win for a wildly fun night on the town!
Restaurant Event Ideas: Fitness & Wellness
Health-conscious foodies are always seeking fresh ways to pursue their passions for fitness and wholesome dining.
Restaurants can attract these customers by showcasing how nutritious fare pairs perfectly with an active lifestyle.
Host exercise activities like running clubs, yoga, or cycling that end with patrons refueling on healthy meals. Collaborating with local fitness studios and trainers allows you to provide full wellness experiences.
Promoting events that combine getting the heart rate up and enjoying clean eating taps into a key target market looking for community around holistic living.
Here are some restaurant event ideas that will get guests breaking a sweat before rewarding their hard work with your delicious, nutritious menu items.
Bottomless Brunch Runs: Work Up an Appetite Before Indulging
Want to attract health-conscious foodies seeking both fitness and indulgence? Host running groups that build up patrons' appetites before refueling at your brunch spread. These "Bottomless Brunch Runs" offer the perfect pre-brunch workout and reward for runners.
Partner with local running clubs or trainers to lead 3-5 mile routes ending at your restaurant. Promote the runs on exercise sites and social media to sign people up. Upon completing the brisk morning jog, runners are greeted at your restaurant with a mouth-watering brunch buffet and bottomless mimosas or bloody marys.
After burning major calories on their sustained jog, guests can recharge on your signature brunch dishes like loaded omelets, pancake stacks, and avo toast. The discounted bottomless drinks will help runners replace fluids and add to the celebratory vibe. Bottomless brunch runs bring together diverse crowds around shared interests for a healthy and fulfilling morning.
Sun Salutations and Sunday Brunch: Partner for Yoga Events
For the ultimate mind and body restoration, your restaurant can collaborate with local yoga studios and teachers to combine relaxing yoga sessions with healthy brunch menus.
Host these "Yoga Brunch" events on weekend or weekday mornings when your restaurant opens. Provide space for instructors to guide an all-levels yoga class before participants earn their savory, nutritious brunch meals.
Yoga helps patrons build an appetite while feeling centered for the day ahead. Feeling flexible and recharged, they can then nourish their bodies with your vibrant vegetable-focused dishes, energizing juices, or protein-packed skillets and scrambles.
Promote Yoga Brunch events through local studios and on yoga sites to attract devotees of on-trend wellness experiences. The fusion brings together your healthy offerings with exercise for yoga lovers and foodies alike. Namaste over nutritious nourishment!
Team Up with Cycling Studios for Spin and Dine Events
Indoor cycling enthusiasts are always seeking new places to grab food and drinks after intense spin classes. Partner with nearby cycling studios to offer "Spin and Dine" events that combine heart-pumping workouts with recharging restaurant meals.
Promote these events at the cycling studio and your restaurant. Participants can sign up for back-to-back cycling classes and dining packages. After spinning, burning calories, and building muscle at the studio, riders coast right into your restaurant to indulge in refreshing drinks, protein-packed dishes, and nutritious carbs to replenish.
Spin class instructors can even join the groups at your restaurant after the workout. Offer special discounts on share plates and drinks to replace what the riders sweated out! Spin and dine collaborations are win-wins drawing more fitness fans into your establishment while providing cyclists the perfect post-workout spot.
Fuel Runners on Charity Race Routes
Running charities host 5Ks, marathons, and other races as fundraising events. Restaurants along these routes can participate by becoming water and food stations. You'll gain exposure among thousands of runners while supporting worthy causes.
Work with race organizers to set up branded tents, banners, and volunteers along the course. Providing water, energy gels, protein bars, bananas, and other portable nutrition helps keep runners energized to finish strong. After they cross the finish line, give out coupons and flyers to direct them into your restaurant to refuel properly.
Getting involved with charity runs and races as a venue for aid stations is rewarding. You'll meet new potential customers and give back to important causes. Runners appreciate businesses who help make race day a success. When they return home with your coupons, you may have gained regulars for life.
Restaurant Event Ideas: For Locals
As community fixtures, restaurants can and should cater to the neighborhood residents surrounding them. Hosting special events just for locals fosters goodwill and loyalty amongst your closest regulars.
Giving back through open houses, fundraisers, and fairs provides inherent value for nearby patrons. Promoting beloved local vendors and performers also cultivates pride and connection amongst your hometown crowd.
These are restaurant event ideas that celebrate and engage the neighbors and townspeople who keep your business running week after week. Showing a little extra love for the locals pays dividends through their enthusiastic support.
Welcome Neighbors with Open House Events
Take inspiration from community events like Open Omaha to host an open house specifically for local patrons. For one day or weekend, open your doors to give neighbors special access.
Provide tours that showcase your restaurant's history, decor, architecture, or menu development process – anything that gives locals insider insight. Offer food and drink samples and specials to give them a taste of new offerings.
Have complimentary activities like games, crafts for kids, or live music by local performers. Showing off your space and hospitality exclusively for surrounding residents helps build lasting bonds. Send mailers or emails to notify neighbors and generate buzz leading up to the open house date.
An open invite gives locals pride and makes them more invested supporters. Use the event to collect neighbor feedback or suggestions too. Open houses tailored just for nearby patrons can turn them into your biggest fans.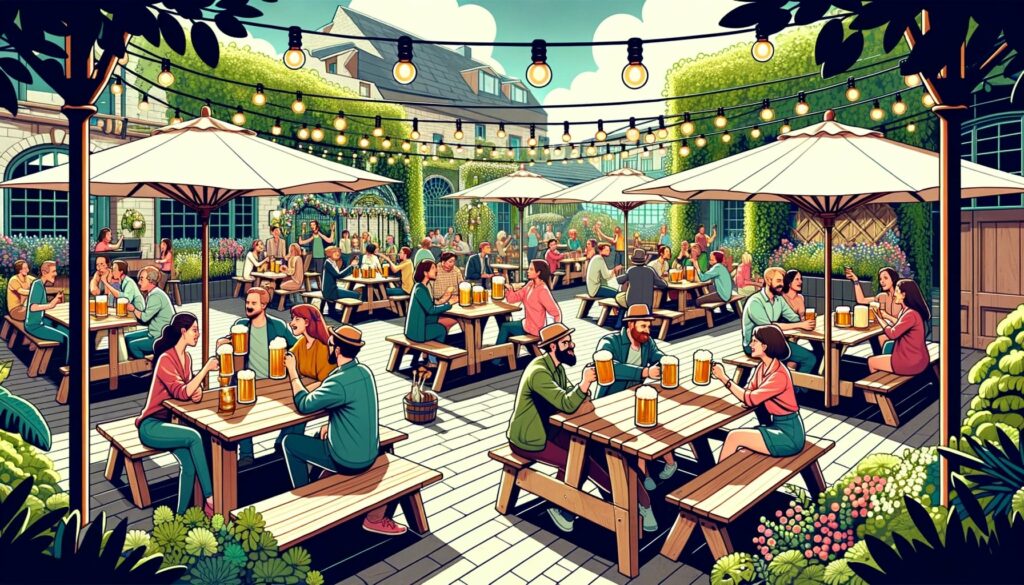 Cheers to Outdoor Beer Gardens for the Community
Warmer weather is perfect for restaurants to set up charming European-style beer gardens outdoors. These community spaces allow local patrons to soak up sunshine and mingle over beers, snacks, and lawn games.
Dedicate patio space or parking areas to add bistro seating, picnic benches, and colorful umbrellas. Have fun music playing and serve a rotating selection of local craft beers on tap. Offer beer-friendly bites like soft pretzels, brats, or beer cheese dips that neighbors can share.
Promote the beer garden as a laidback local hangout spot on weekends or for events like World Cup viewing parties. Trivia nights, movie screenings, or live acoustic music adds to the fun.
An outdoor beer garden tailored to regulars fosters friendship and gives your community members an accessible backyard oasis all summer.
Spotlight Area Makers at Local Vendor Fairs
Makers markets are one of the most popular types of events we promote throughout the year. We many different organizations host this type of event and sometimes they see a mind-boggling amount of foot traffic.
Restaurants can open their doors on off-days to host vendor fairs shining the spotlight on neighborhood artists, farmers, crafters, and food producers. Or leverage your parking area with the appropriate permits as an outdoor market. We've even seen these be successful in the winter (just make sure to buy some heaters!).
Reach out to makers and growers in your community to sign up for booth space at the event. Many are eager for opportunities to sample products and interact with customers.
Promote it as a chance for locals to meet and shop small/local businesses all in one place. Make sure to lock down dates and details early so that the vendors have plenty of time to help promote the event too.
Provide basic tables or allow makers to bring their own displays. Have your restaurant staff on hand serving drinks, snacks, and small plates made with local ingredients to add to the community-centric affair.
The fair gives makers face time with target buyers while showing your support for neighborhoods. For future events, invite chefs to host cooking demos using local wares.
Restaurant Event Ideas: Seasonal
Customers look forward to beloved annual events and times of year that provide comfort, joy, and celebration. As community staples, restaurants have the opportunity to amplify seasonal cheer and connections through targeted events.
Offer festive holiday menus, game day food and drink packages, or outdoor summer barbecues and concerts.
Seasonal events that complement what patrons already cherish about various times of year fosters nostalgic anticipation. This gives guests more reasons to gather with loved ones or collectively observe traditions at your establishment strengthens loyalty.
Take a look at these restaurant event inspirations around major holidays, seasons, and other special dates already marked on your customers' calendars.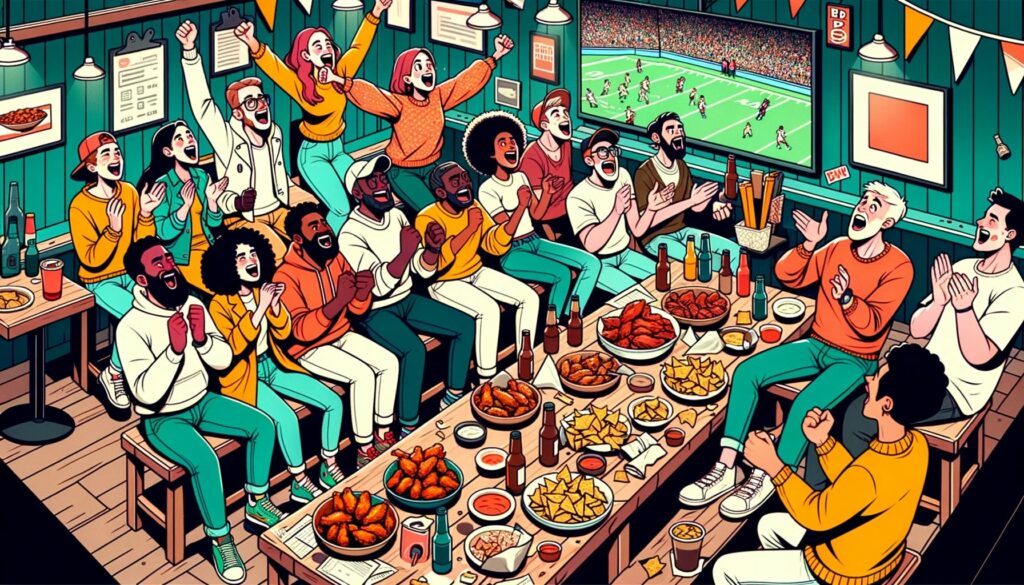 Score Big with Game Day Food and Drink Combos
When big sporting events like the Super Bowl, World Cup, or March Madness roll around, fans look for great places to cheer on their teams. These are major opportunities for restaurants to drive traffic by offering game day food and drink packages.
Promote party platters with shareable appetizers and entrees to serve groups. Create cocktail buckets filled with cans of beer or carafes of classic game day drinks like margaritas or bloody marys. Offer prix fixe menus with wing options, sliders, nachos, chili, and other hearty fan foods.
Just watch out for using copyrighted names of the games. Use terms like "the big game" to avoid legal troubles. Chances are it won't matter, but better safe than sorry. Everyone will know what you're talking about anyway. Include the actual name of the game in your description so it will show up in search.
Make sure to have plenty of TVs showing the game and festive decorations supporting different teams. Keep the kitchen running at high speed to feed hordes of hungry, thirsty fans.
With the right promos and specials, your restaurant can be the neighborhood hot spot on major game days.
Support Local on Small Business Saturday
Small Business Saturday takes place every year on the Saturday after Thanksgiving to encourage holiday shoppers to support small and local businesses. Restaurants can get involved in this nationwide initiative too.
Promote a special menu for Small Business Saturday featuring ingredients sourced from local producers, brewers, bakers, and artisans. Offer diners discounts or freebies like cookies or cocktails.
Partner with other local shops to create cross-promotions like a "Dine and Shop Local" coupon book. Set up a Small Business Pop-Up in your space where local makers can showcase goods like ceramics, candles, apparel, and more.
Use it as a day to give back by donating a percentage of proceeds to a local nonprofit. Showcasing your small business pride and values will resonate with patrons who also believe in supporting their community.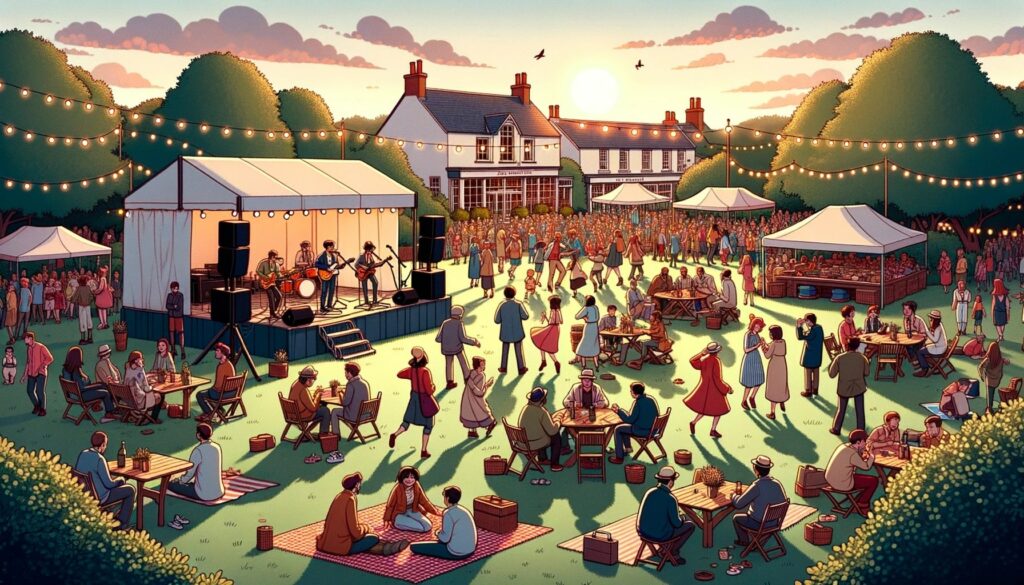 Rockin' Summer Concerts at Your Restaurant
When the weather heats up, take your restaurant events outside by hosting live music concerts in parking areas or nearby parks. Outdoor concerts create a lively atmosphere perfect for summer nights.
We interviewed Zach Jones, who hosts a concert series in the small town of Malvern Iowa. The restaurant across the street are so busy on these days that they started inviting food trucks because it was too much for one restaurant.
Book local bands or acoustic singers across genres like rock, jazz, blues, funk, or folk to play evening sets. Promote the outdoor concerts on event sites and social media. Offer food and drink specials like craft beer, wine, and signature seasonal cocktails to enjoy during the shows.
Set up seating like picnic blankets and lawn chairs for the audience. Consider fun extras like barefoot dances, hula hoopers, yard games, or a photo booth. Launch fireworks or sparklers to end the night with a bang.
Outdoor concerts filled with delicious drinks, vibrant music, and beautiful summer nights will have your community flocking to your restaurant. Host them regularly or expand to a weekend music festival to make your restaurant the hub for summer entertainment.
Spread Season's Greetings with Festive Holiday Menus
The holiday season is the most wonderful time of year for restaurants to showcase seasonal delicacies. Craft special menus that capture the flavors, spices, and ingredients associated with annual winter holidays.
Around Thanksgiving, highlight turkey, stuffing, and autumn veggies. For Christmas and Hanukkah, incorporate ham, brisket, and potato dishes. Offer celebratory New Year's Eve multi-course meals.
Include festive cocktails using cranberry, apple cider, peppermint, or gingerbread. Thematic decor and music adds to the cheerful ambiance. Provide take-home holiday meal packages for easy feasts with family.
Promote booking for large groups and office celebrations. Holiday menus give loyal customers comforting tastes that enhance their traditions. Surprise extras like cookies or cider to-go make the experience even more merry.
Participate in Restaurant Week Promotions
Many cities host annual Restaurant Week promotions to spotlight local dining deals. Restaurants can sign up to offer special prix fixe menus at discounted prices for these weeks.
Craft multi-course lunch and dinner menus that showcase your signature dishes and creativity. Offer menus at price points like $20 for lunch, $35 for dinner. Promote the special Restaurant Week offerings across your website, social media, and with in-restaurant displays.
Restaurant weeks drive new customers through the door who come out to try your curated menu. Upsell add-ons like wine pairings or cocktails. The fixed price sampling brings exposure and lets diners experience top menu items at a great value. Participating provides a major boost during slower post-holiday periods.
Conclusion
The key is choosing events that align with your restaurant's atmosphere, cuisine, and customers.
But don't be afraid to experiment – you never know what might take off.
We always say "people vote with their feet." It may take a few different experiments to find what resonates with your community and gets people really excited.
Just be sure to promote effectively so patrons know all the exciting happenings at your spot. With the right restaurant events, you can drive new visits and delight longtime regulars all year long.
Want help promoting your events and advice on how to make your events more exciting? Schedule some time with us to learn how we can help with promotion for your restaurant.