Unlike large-scale event management companies or established venues, independent promoters like you often operate on a smaller scale and rely on their creativity, resourcefulness, and passion for curating unique experiences.
Beyond the core part of your business booking and promoting musical acts and comedians, there is more opportunity than ever to implement creative event ideas as an indie promoter.
Importance of Creative Event Ideas for Independent Promoters
Creative event ideas play a pivotal role in the success of independent promoters. We see this across our 400+ customers where unique events have a chance to really strike a cord with event-hungry consumers and bring people together for fun new experiences.
In an increasingly competitive market, it is essential for promoters to differentiate themselves from larger organizations and provide attendees with truly exceptional experiences that leave lasting impressions.
Creative event ideas not only entice potential new attendees but also help build loyalty among existing supporters.
By infusing events with originality and innovation, independent promoters can captivate their target audience's imagination while showcasing their own distinctive style. These ideas allow you to go beyond conventional approaches and curate immersive environments that transport attendees to new realms of entertainment.
Creative event concepts have the power to generate buzz, attract media attention, and ultimately drive ticket sales. Simply put: they stand out.
Whether your potential attendees are scrolling through social media or searching for things to do on a local community event calendar, creative events pop out of the list full of names of performers and grab their attention.
The following sections will explore high-level event ideas that can elevate the experience for attendees at independent promoter events as well as delve into niche subtopics such as interactive event ideas and surprise elements that add an extra layer of excitement.
High-Level Event Ideas For Indie Promoters
Themed Events
From Roaring 20's parties to Masquerade Balls to Shrek Raves, transporting guests into a theme through immersive sights and sounds has proven to be a gold mine for creative promoters.
The space matters a lot for some themed events. Decorations, themed food, or even using a unique space like a museum for an event can make it stand out.
Some quick examples of themed events that we've see independent promoters pull off around the country:
Masquerade Ball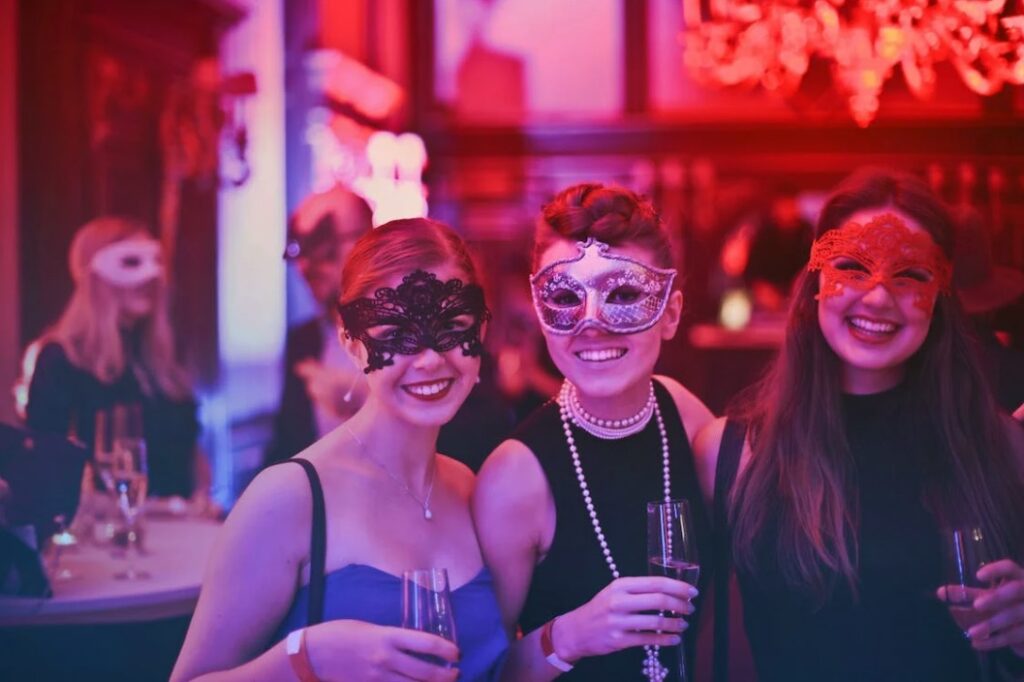 Transport yourself and your guests to a realm of elegance and mystery with the mesmerizing allure of a masquerade ball.
This enchanting event idea brings to life an atmosphere reminiscent of Venetian carnivals, where attendees don ornate masks, adding an air of intrigue to the evening. The venue should be adorned with luxurious draperies in rich colors, hints of gold accents, and flickering candlelight that casts dancing shadows across the room.
This could take place at a traditional venue or find a unique space like renovated churches or Art Deco buildings.
Live music from a skilled string quartet or a sultry jazz band sets the tone for an ethereal experience. Guests can indulge in delectable hors d'oeuvres served on silver trays while sipping on champagne from crystal flutes.
As the night unfolds, surprise performances such as mesmerizing fire dancers or graceful aerial acrobats captivate guests and add an element of astonishment.
These types of events are classy and can command a higher ticket price, so they can be well worth the extra production costs.
A Journey Through Time: Retro Night
Take your attendees on a nostalgic trip back in time with a captivating retro-themed event that celebrates the music, fashion, and ambiance of bygone eras. Bring together classic hits from icons like Elvis Presley or The Beatles to set the mood for an unforgettable evening filled with dance and laughter.
Take a nod from Taylor Swift's Eras tour and experiment with opening the event up to many different retro time periods. Have people dress up with their favorite decade and watch as attendees take to social media to show off their costumes and preferences.
Encourage guests to embrace vintage fashion by donning poodle skirts, fedoras, or bell-bottoms as they relish in nostalgia-inducing activities such as swing dancing lessons or vinyl record spinning contests. Décor should reflect different eras; think neon lights reminiscent of 80s arcades or colorful lava lamps harking back to the psychedelic 60s.
Create interactive stations where attendees can try their hand at retro board games like Twister or challenge friends at vintage arcade machines like Pac-Man. A photo booth with retro-themed props will allow guests to capture memorable moments in true throwback style.
There's so much to do with this idea. Take it and make it your own!
Outdoor Events
Soaring Heights: Rooftop Party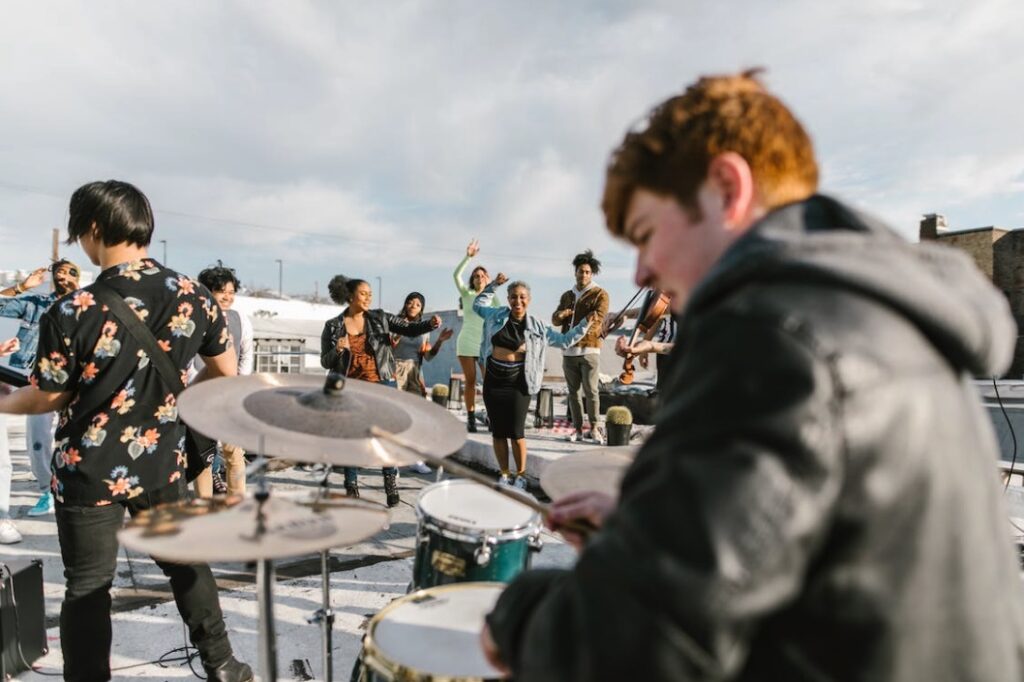 Elevate your event to new heights by harnessing the breathtaking views of a rooftop venue, transforming it into an unforgettable party under the twinkling stars.
People. love. rooftops.
Set against the backdrop of a city skyline or natural landscape, this high-energy soirée is perfect for attendees looking to revel in the urban splendor while immersing themselves in pulsating beats. Live DJs spinning a mix of genres ranging from deep house to hip-hop ensure that the dance floor remains packed throughout the night.
Lounge areas with plush seating and cozy fire pits provide spaces for guests to catch their breath and soak in mesmerizing panoramas while savoring signature cocktails crafted by skilled mixologists.
The combination of vibrant music, delectable cuisine, and majestic vistas results in an unparalleled sensory experience.
I still remember the many rooftop parties I've attended over the years and I'm always up for another one.
Paradise Found: Beach Bonanza
Escape into a tropical paradise without ever leaving indoor confines by curating a beach-inspired event that evokes warm sand beneath your toes and gentle ocean breezes on your skin.
Transforming the venue into an oasis adorned with swaying palm trees, colorful beach umbrellas, and vibrant floral arrangements creates an immersive experience reminiscent of idyllic coastal getaways.
Attendees can relax on sun loungers or embrace their inner child by engaging in friendly beach volleyball matches on sand pits specially installed within the space. Quenching thirsts are refreshing cocktails served in coconuts or pineapple-shaped cups garnished with tiny umbrellas.
A mouthwatering buffet showcases seafood delights such as grilled shrimp skewers or coconut-crusted fish, adding to the beachside ambiance. To complete the experience, a live band playing reggae tunes or a steel drum soloist creates a melodic backdrop that transports guests to an island paradise.
Remember, these high-level event ideas are just the beginning. Let your imagination soar and tailor them to your specific audience and objectives, ensuring you create an event that leaves lasting memories for all who attend.
Interactive Event Ideas
Escape Room Experience
When it comes to offering an interactive event that engages attendees on an intellectual and adventurous level, collaborating with escape room companies can be a game-changer. By partnering with these experts in immersive experiences, independent promoters can create custom puzzles and challenges that not only align with the event theme but also push the boundaries of creativity.
Attendees enter a meticulously designed space where every corner holds a clue waiting to be unraveled. By integrating interactive elements such as hidden clues or secret compartments within the venue, the escape room experience reaches new heights.
Through careful attention to detail, independent promoters can work closely with escape room experts to create an environment brimming with mystery and intrigue. From deciphering cryptic messages to uncovering concealed passages, participants will feel fully immersed in a world where problem-solving skills are put to the test.
Silent Disco Party
I know… we talk about Silent Disco Parties a lot, but they work!
There's something captivating about losing oneself in music while surrounded by a sea of dancing bodies. To elevate this experience further, independent promoters can introduce the concept of a silent disco party. This innovative idea revolves around providing wireless headphones to attendees, allowing them to choose between different DJs or music channels seamlessly.
The beauty of a silent disco lies in its versatility; it eliminates sound clashes and enables participants to curate their own musical journey. As individuals switch between channels at their leisure, they become not only active participants but also co-creators of their dance floor experience.
To enhance the atmosphere further, LED lights synced to the beats of the music can transform any venue into a visually stunning spectacle. The pulsating lights create an enchanting ambiance that intensifies as more dancers join in, resulting in an unforgettable sensory adventure for all those involved.
Incorporating these interactive event ideas into their repertoire can undoubtedly help independent promoters captivate audiences and leave them yearning for more.
Whether it's the thrill of solving puzzles in an escape room or the freedom to sculpt their dance floor experience at a silent disco, attendees will cherish these unique moments where they become active participants in creating lasting memories.
Surprise Element Ideas
Flash Mob Performance
One exhilarating ways to surprise and delight event attendees is by organizing a flash mob performance. Imagine the astonishment on their faces when professional dancers or performers seamlessly blend into the crowd, only to suddenly break out into an energetic and synchronized dance routine. This unexpected burst of talent not only captivates the audience but also creates an atmosphere of pure excitement and joy.
Flash Mobs were big for awhile, but they seemed to have phased out because they weren't as unexpected anymore. The surprise is half the fun. Maybe it's time for the return of the flash mob.
To make the flash mob even more memorable, consider incorporating surprise elements like confetti cannons or bubble machines that add an extra layer of spectacle. The combination of choreographed movements, surprises, and immersive entertainment transforms any event into a truly unforgettable experience.
Conclusion
For independent promoters looking to host remarkable events, integrating creative ideas and surprise elements is paramount. From thrilling flash mob performances that seamlessly blend talent with audience interaction to using confetti cannons and bubble machines for added spectacle, these rarely known small details can make all the difference in creating extraordinary experiences for attendees.
These creative event ideas are hopefully enough to get your mind moving and help you come up with your own creative ideas!
Want help promoting your events? Click here to learn more about how we help successfully promote thousands of events per year.