It's hard to ignore this trend of event organizers openly looking for alternatives to Eventbrite.
We talk with hundreds of event organizers and promoters every month through our demos, current customers, and our friends in the industry. Most of our team organizes events personally too.
Most large entertainment companies tend to use Ticketmaster and AXS for ticketing. Meanwhile, Eventbrite essentially owns the small and medium sized events. We even work with a few significantly sized event companies that use Eventbrite for ticketing. When there's a sentiment change against Eventbrite, it's noticeable.
Because this kept popping up, I decided to dive into our own data from the 23,800+ events we promoted over the past 3 years to see if there is a trend of event organizers (at least the ones we work with) moving away from Eventbrite.
What I found surprised me.
First. Eventbrite's New Fees and Pricing
Upcoming changes to Eventbrite's pricing was announced on August 3, 2023. This new change further increases the fees associated with ticketing through Eventbrite.
A common complaint from Eventbrite customers has been that the fees are high. Eventbrite asserts that the value their software and their event discovery platform provides is worth it.
To compensate for the growth of their event discovery platform AND additional boost tools (that the value of is debatable), they have started to add per event or per month fees.

OR

The subscription plans also come with the ability to send emails to users in your email list, previous customers, etc.
We surveyed some of our event organizer connections on LinkedIn and it seems the pricing adjustment was just enough to push many of them into considering Eventbrite alternatives for ticketing.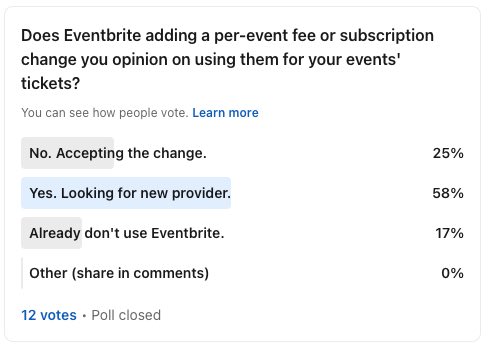 It's too early to tell how this change will affect their market position. The rest of this article will dive into where they are currently at according to our own data and some industry context.
Challenges To Eventbrite's Dominance
I'll spare you the background details on how Eventbrite became so dominate. If you're working in the event industry already, I assume you are well aware of Eventbrite's position in the market. You can read up on it here if you need to catch up.
Just like the rest of our industry, Evenbrite got rocked pretty hard by the pandemic. In April of 2020, they laid off a reported 45% of their workforce. The notable part was that the layoffs hit sales, field operations, and customer success the hardest.
That means if you remained a loyal Eventbrite event organizer throughout the following years, you were left with less and less points of contact with the company.
Add this to the already crowded field of ticketing software clamoring to take a bite out of Eventbrite's and Ticketmaster's market shares, and you have a real challenge to their dominance.
A lot of the news recently has been about issues Ticketmaster has caused and been facing. But for a lot of the people we talk to in the industry, changing fees and lack of support from Eventbrite is all the buzz.
The main reasons we hear event organizers looking for alternatives to Eventbrite are:
Hidden fees: Eventbrite charges service fees to both event organizers and attendees, which can be confusing and frustrating.
Poor customer service: Some users have reported long wait times and unhelpful responses from Eventbrite's customer service team. This is true for both organizers trying to get technical support and their attendees that want support for the tickets they bought.
Limited customization options: Eventbrite's event pages and ticketing options are fairly standardized, which can be frustrating for organizers who want more control over the design and functionality of their pages.
Glitches and technical issues: Like any software platform, Eventbrite is not immune to technical problems, which can be frustrating for both organizers and attendees.
Difficulty getting paid: Some organizers have reported difficulty getting paid for their events, or have had their funds held for extended periods of time.
Confusing dashboard: Eventbrite's backend dashboard can be confusing and difficult to navigate, especially for first-time users.
Lack of integration with other tools: Eventbrite does not integrate well with some popular tools like Salesforce, which can be frustrating for organizers who rely on these tools for their business.
Eventbrite chose to invest HEAVILY into adding and updating product features over the last few years. This has been refreshing as an organizer, but new product features means more to go wrong, more confusing dashboards, and the investment still hasn't been added back to customer support.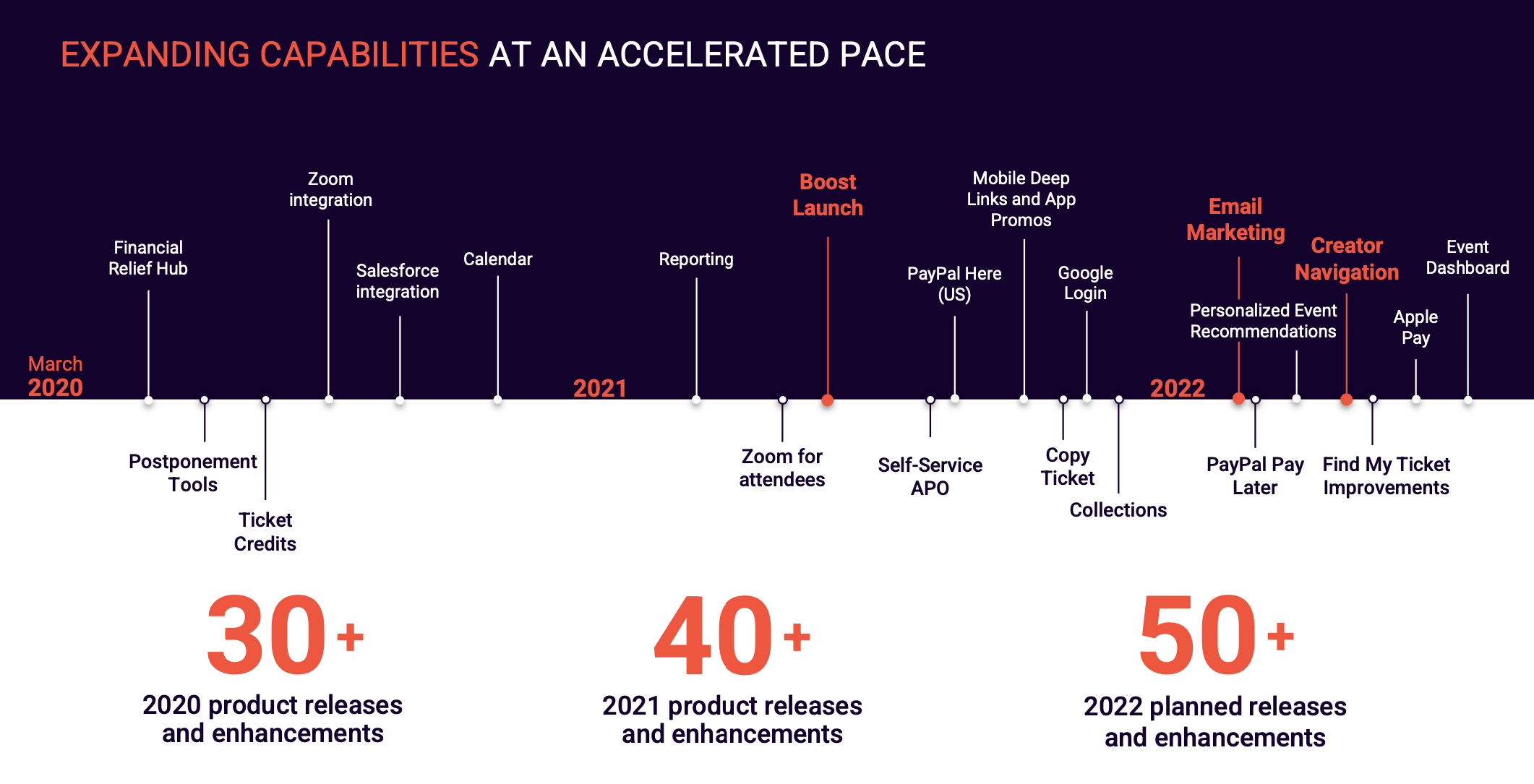 Our Data On Eventbrite's Market Share Over Time
Even for a public company like Eventbrite, it can be hard to find accurate data on their market share. Even more challenging is seeing that market share over time to see what trends might appear.
While the data we have from 23,800+ events over the past three years isn't perfect, it can serve as some helpful data points when trying to figure out where the industry is headed.
I'll admit, I came into the research portion of this post fully expecting to see a decline in Eventbrite's share of ticketing in our platform over time. That is the story everyone around us in the events industry has been telling us, so that is what I expected to see. Well… I was surprised by how wrong that intuition was.
Over 15% of event organizers used Eventbrite in Q2 of 2021 and that number steadily grew to 20% in Q1 of 2023.
A little bit further into this post, we'll break out the alternatives to Eventbrite to see what changes are happening there. Even those are just a selection of nearly 100 other ticketing software companies that are competing for the 80% that Eventbrite leaves on the table.
What I was expecting to see was a gradual decline in Eventbrite ticketing over the eight quarters measured here. Instead, that same period saw a steady increase.
What explains this?
After going back and talking to quite a few event organizers who said they had issues with Eventbrite, I found that most of them had not changed to someone else. They were begrudgingly still using Eventbrite or had gotten the support they wanted and were satisfied for the time being.
Another possible reason for this growth is that there are ALWAYS new event organizers joining the market. Eventbrite makes it insanely easy to get started. They have an incredibly strong brand. And most of all, most people have already used Eventbrite as a customer. These new product updates they've made over the past few years have certainly helped too.
Alternatives to Eventbrite
There is a vibrant field of competitors to Eventbrite.
Some, like Ticketmaster and AXS are hard to consider challengers as they are some of the biggest ticketing companies in the world.
Others, like PreKindle, SeeTickets, ShowClix, and eTix have established themselves as genuine challenger brands and growing steadily.
Take a look at this graph breaking out the share of ticketing for Eventbrite alternatives.
There seems to be a lot more volatility in the rest of the data. As these other ticketing companies make up a much smaller part of our data individually (collectively they make up 80%, but there are nearly 100 alternatives fighting for that 80%). Because of this, a few companies entering or exiting the database can cause bigger relative fluctuations in ticketing share.
Some specific ticketing companies do rise out of the pack though. Those are the ones shown on the chart above.
Surprisingly, AXS didn't make much of a dent in the data. This is likely because they tend to represent very few events and companies, but very big ones. That is their business model.
Ticketmaster also tends to focus on bigger acts and venues. They still, however, have a lot of coverage despite how annoyed everyone might seem be with them at the moment.
Where things get really interesting here is the ticketing companies that focus on serving a similar group of event organizers as Eventbrite.
PreKindle, for example, has been popping up a lot for us. They offer integrated marketing services for events that are popular with organizers that have a lot of events to promote. We did see a few organizers start to use PreKindle and then change, which could pose a challenge for them as they grow. In the search for Eventbrite alternatives, customers seem to move around quite a bit before landing on their ticketing provider that will last.
ShowClix and eTix are two ticketing companies that have seen steady growth in the past two years. Both have been aggressive in going after new market share and they are having some success at it. They also don't tend to lose new customers as much as others with similar share of ticketing.
Fun personal fact: Nearly 10 years ago, when I release an indie film in Pittsburgh, ShowClix approached us about using them for ticketing. It was a great experience and at the time we saw them as a local Pittsburgh company. That's where they have their headquarters. Good to see them still growing.
Future of Event Ticketing Industry
The ticketing industry is going through changes at every level. And we didn't event touch on the potential for new technologies like blockchain and AI to disrupt this already competitive industry.
Eventbrite isn't going anywhere any time soon. They are being aggressive with product development to fill in the gaps where their customer service and sales have been lacking. There's no doubt that they will re-invest in these parts of the business as well when the economy starts to bounce back.
There is, however, a thriving ecosystem of other options for event organizers that are frustrated with Eventbrite and looking for alternatives.
Emerging players in the industry will push new expectations from both consumers and organizers. New features are on the horizon, new expectations around service, and new fee structures will emerge.
If you're looking for alternatives to Eventbrite, there are many and they are all solid options. It really depends on your specific needs as an event organizer.