Brewers, listen up!
If you're not hosting events at your brewery, you're missing out on a major opportunity.
Hosting events is an essential strategy for any brewery looking to increase exposure and revenue, while also building brand loyalty. In this article, I'll break down why hosting events is a crucial aspect of the brewery industry and how you can craft a memorable event that will leave attendees wanting more.
Why Events Are Critical for Breweries
In today's saturated beer market, simply making great beer isn't enough to stand out from the crowd. As consumers' knowledge of brewing grows, brewers need to find new ways to engage with their audience.
This is where hosting events comes in as an effective tool for engagement. Events provide breweries with the opportunity to showcase their unique offerings in an intimate setting and connect with potential customers on a personal level.
Hosting events creates a sense of community around your brand that can't be replicated through social media or advertising alone. By inviting people into your brewery space and showing them what makes your business special, you create lasting memories and positive associations for your brand.
The Benefits of Hosting Brewery Events
The benefits of hosting events extend far beyond just creating positive associations with attendees. There are tangible economic benefits that come from holding successful events at your brewery.
New revenue streams. Hosting an event creates new revenue streams for your business beyond just beer sales. By selling tickets or merchandise related to the event theme, breweries can generate additional income from attendees who may not have visited otherwise.
Increased customer loyalty. Hosting successful events increases customer loyalty. By providing unforgettable experiences that leave guests wanting more, they're more likely to return frequently with friends and family.
Building a community of repeat customers is essential to the long-term success of any brewery. Hosting events at your brewery is a crucial aspect of building a successful brand in the beer industry.
Not only does it provide unique opportunities for engagement with potential customers, but it also creates new revenue streams and builds loyal customer bases. The benefits are clear: if you're not already hosting events at your brewery, it's time to start!
Creating a Memorable Brewery Event
Choosing the Right Event Type
Choosing the right type of event is critical to its success. You need to consider your target audience and what type of experience they would enjoy. Craft beer drinkers love to explore new beers and flavors, so beer tastings and pairings are a great option.
If you have a limited number of beers, consider pairing them with food to enhance the tasting experience. Brewery tours are also popular among craft beer enthusiasts.
Who doesn't want to learn more about how their favorite beers are made? This can be an interactive experience where guests get hands-on with brewing equipment and learn about the different brewing processes.
If you're looking for something more lively, live music or entertainment can be incorporated into your event. It's important to choose acts that align with your brand and target audience.
By the way, here are 20 Proven Brewery Event Ideas to get you started!
Crafting the Perfect Venue
Selecting the perfect venue is key when it comes to hosting a memorable brewery event. Breweries often offer indoor or outdoor spaces, but it's important to think carefully about which would be best for your particular event.
Indoor spaces provide shelter from weather elements, but don't always allow for fresh air or natural light. Outdoor spaces offer beautiful views and fresh air but come with risk factors such as weather conditions that may affect attendance.
The decor and ambiance of the venue should align with your brand image while also creating a welcoming atmosphere for attendees. Consider incorporating elements such as old barrels, neon lights or chalkboards that showcase interesting facts about brewing.
Planning The Event Details
Details matter when it comes to planning your brewery event, no matter how big or small it may be. It starts with invitations (digital or print) that catch people's attention by providing interesting details about what attendees can expect from the event. Marketing the event with effective brewery event promotion is key to success.
Social media is an effective way to reach potential attendees and showcase what they can expect from the event. Don't forget about putting up posters or banners in strategic locations within your community.
Food and drink options should also be carefully considered. You want to provide guests with a variety of options that pair well with your beers. Some of our brewery customers actually make full events out of beer pairings with food. Here's an example of one successful beer and food pairing event from a brewery in Texas.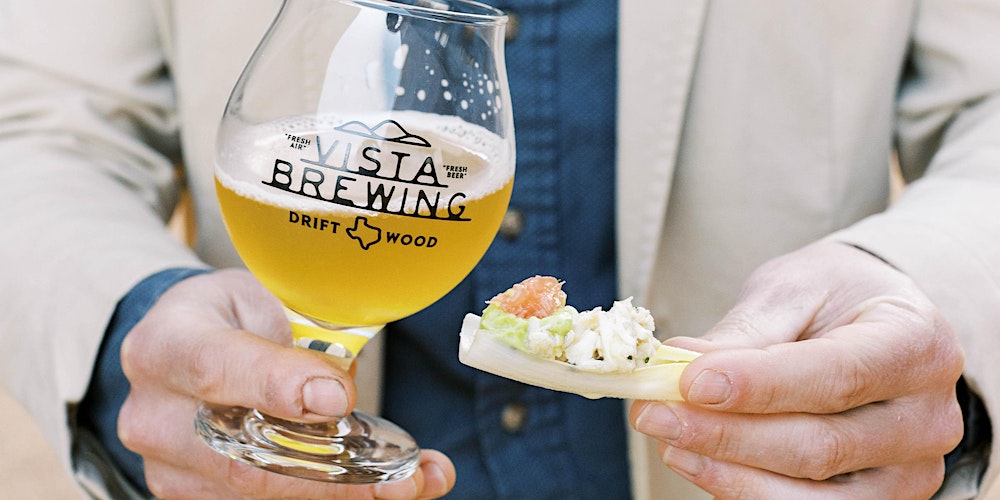 Consider partnering with a food vendor that specializes in pairing food with beer or create a menu of your own. Creating an unforgettable brewery event starts with choosing the right type of event that aligns with your brand and target audience.
The venue should complement the theme of the event and provide a welcoming atmosphere for attendees to enjoy their time there. It's important to think through all details such as invitations, marketing strategies, food and drink options etc., to ensure everything runs smoothly on the day of the event.
Why Breweries Need to Host Events
Craft beer has become more than just a beverage choice; it's a culture. Today, breweries are no longer just places to grab a drink after work but are destinations for social gatherings and events.
Hosting events at your brewery is essential in today's competitive market. In this section, we will discuss the reasons why breweries need to host events.
Building Brand Awareness and Loyalty
Hosting an event is a great opportunity to showcase your brewery's brand, values, and personality. These events provide an engaging space for people to learn about your brewery's story and products while socializing with like-minded individuals who share similar interests.
Brewery owners can use their events as an opportunity to educate their guests about the brewing process, the ingredients used in each beer, or give them behind-the-scenes access to areas of the brewery not usually open to the public. By doing so, brewmasters can create memorable experiences that will leave guests talking about your brand long after they have left.
Attracting New Customers Through Events
Hosting unique events allows you to attract new customers who may not have visited your brewery otherwise. Hosting beer tastings or pairing sessions allows potential customers to try different beers without committing themselves into buying a whole pint of something they may not like.
Furthermore, hosting live music or other entertainment draws diverse crowds who might not necessarily be huge fans of craft beer but would attend the event because of their interest in other activities offered at the event. By casting a wider net through various types of entertainment and attractions, you'll attract new customers from all walks of life.
Creating a Community Around Your Brewery Brand
Events allow breweries to establish themselves as more than just another drinking spot in town but rather as community hubs that bring together patrons with shared interests. These gatherings provide opportunities for customers to connect, network, and make new friends.
By creating a sense of community around the brewery brand, customers are more likely to feel connected and invested in the brewery's success. They will form a stronger bond with your brand and be more eager to spread the word about your brewery to their friends.
Increasing Revenue Streams
Events can offer additional revenue streams for breweries beyond just selling beer. By selling tickets or merchandise, hosting beer tastings or pairings, breweries have another opportunity to earn money at events. Events also give an avenue for food vendors to sell their offerings.
In addition, some breweries may team up with other local businesses to create unique collaborations or events that share in the profits generated from ticket sales or food/drink purchases. These partnerships bring in new clientele who might not have come otherwise.
Creating Lasting Memories for Customers
When customers attend memorable events hosted by your brewery, they will remember it for much longer than just another casual bar visit. The unique experience you provide sets you apart from other breweries who don't host such events.
Breweries should strive to create interactive experiences that guests won't forget soon. For example, an event where guests can listen to live music while sitting around a bonfire with their family and friends creates unforgettable memories worth sharing on social media and recommending through word-of-mouth advertising.
Encouraging Repeat Business Through Positive Experiences
Hosting successful events at your brewery not only brings new customers through the door but also encourages repeat business from existing clientele. By providing engaging experiences that customers enjoy and remember fondly, you establish trust and foster loyalty among patrons which keeps them coming back time after time. Once patrons have attended a memorable event at your brewery they'll likely feel inclined to return because of familiarity with the setting and people present during previous visits.
Craft beer enthusiasts want more than just a beverage; they want to be part of something bigger. By offering regular events with unique themes or activities, you provide more than just a product but also an experience worthy of patronage.
How to Make Your Event Stand Out
Creative themes or concepts that align with your brand
If you want to make your brewery event unforgettable, you need to use your imagination and creativity. The theme of your event should be something that aligns with your brand, but at the same time, it should be unique and memorable. Don't be afraid to think outside of the box and come up with something original.
A great way to come up with ideas is by brainstorming with your team or even getting feedback from customers on what they would like to see at an event. For example, if your brewery has a strong focus on sustainability and reducing waste, consider hosting an event that highlights this commitment.
You could provide reusable cups, offer plant-based food options, and showcase local artists who create art from recycled materials. This will not only attract customers who share the same values but also help promote a positive image for your business.
Unique activities or interactive experiences for attendees
One way to set yourself apart from other breweries is by offering unique activities or interactive experiences for attendees. These can range from traditional games like cornhole or giant Jenga, to more unconventional activities such as axe throwing or yoga classes.
Another great idea is hosting a beer-making competition where attendees can create their own beer recipes using ingredients provided by the brewery. This creates a fun and engaging experience for customers while also promoting creativity and community building.
You could also provide educational opportunities such as beer tastings led by experts in the industry or brewing classes where participants can learn about the brewing process firsthand. These types of experiences allow customers to engage with your brand on a deeper level which increases their loyalty towards it.
Partnerships with local businesses or organizations
Partnering with local businesses or organizations can help make your event stand out while also supporting other local businesses. For example, you could team up with a local food truck or restaurant to provide catering for your event.
Not only do you get to align yourself within the community, this gives you the chance for a new audience to become aware of your brewery.
This not only provides attendees with delicious food options, but it also supports the local culinary scene. You could also collaborate with local musicians or artists to provide live entertainment or showcase their work at your event.
This is a great way to create a unique and memorable atmosphere while also highlighting the talent in your community. In addition, partnerships with non-profit organizations can help promote social causes and increase the impact of your event.
Consider partnering with an organization that aligns with your values such as an environmental conservation group or a charity that supports mental health awareness. This shows that your brewery is not just focused on profit but also dedicated to making a positive impact on society.
Creating a memorable brewery event requires a lot of effort and creativity. But by using unique themes, offering engaging activities, and partnering with local businesses and organizations, you can make sure that your event stands out in customers' minds long after it's over.
Conclusion
The importance of hosting memorable events in the brewery industry
Hosting events is not just a way to get extra business for your brewery. It is a way to build a community and create memories that last long after the event has ended.
A well-crafted event can be the difference between someone just coming in for a drink and becoming a loyal customer who brings all their friends. The craft beer industry is more competitive than ever, and it's important for breweries to stand out.
Hosting memorable events is one way to do that. Whether it's through creative themes, unique activities or partnerships with local businesses, there are endless possibilities for creating an unforgettable experience for attendees.
How to reap the benefits of hosting events as a brewery owner
As a brewery owner, you have the opportunity to not only showcase your beer but also your brand and values. Hosting events allows you to connect with your customers on a deeper level and build relationships that go beyond just selling beer.
In addition to building brand awareness and loyalty, hosting events can also increase revenue streams through ticket sales, merchandise, food and beer sales. By planning creative and engaging events that align with your brand's message, you can set yourself apart from competitors while creating lasting memories for customers.
So don't miss out on this opportunity! Start planning your next memorable brewery event today and watch as your community grows stronger while increasing sales at the same time!
Want help promoting your events and advice on how to make your events more exciting? Schedule some time with us to learn how we can help with promotion for your brewery.